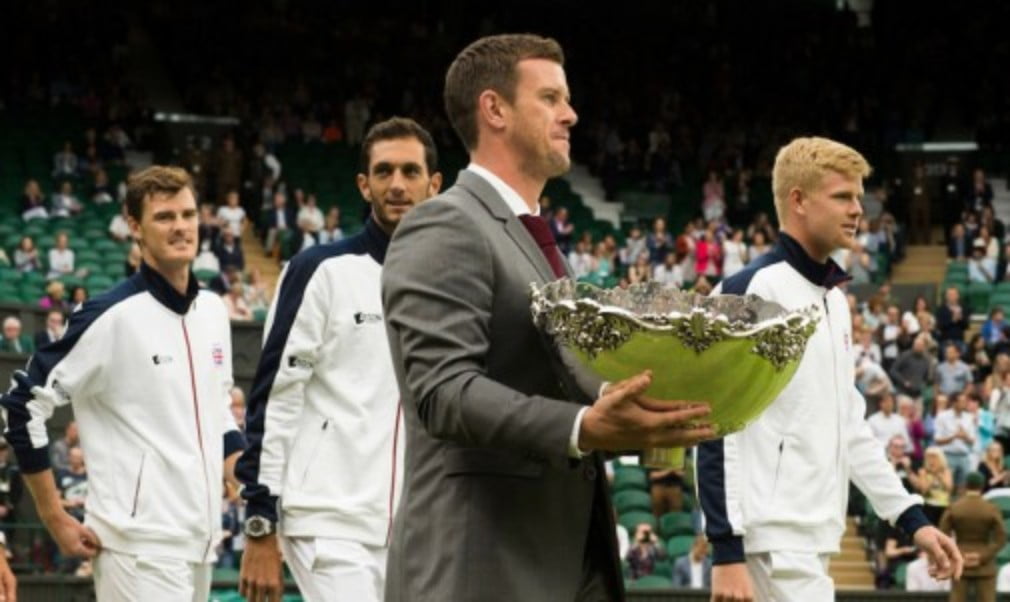 Leon Smith: My Davis Cup debut
Originally published on 17/09/16 00:00
With a (miniature) Davis Cup trophy on his mantelpiece, Leon Smith is hot property these days. The figurehead of Great Britain's historic 2015 Davis Cup victory has earned himself a reputation as a superb leader of men and was awarded an OBE for services to tennis in the Queen's Birthday Honours List in June.
But back in 2010, when Smith was appointed captain following the British's team's 3-2 defeat to sporting minnows Lithuania, it was a very different story. When the then 34-year-old took over in April 2010, the nine-time Davis Cup champions had suffered five successive defeats and found themselves on the verge of a humiliating relegation to the fourth tier of the competition.
Smith's appointment raised eyebrows after he was selected ahead of other candidates with stronger CVs, including former world No.4 Greg Rusedski. However, LTA player director Steven Martens described Smith as the "perfect fit" for the role, saying: "He's a young British coach full of energy and passion, who's already proved he's a quick learner, and has the respect of the players."
"Being offered the role itself was a surprise to many, including myself," admitted Smith. "There would have been more obvious candidates, former players or coaches who had coached at the highest level. I was 34 then and fairly limited experience but fortunately I was given the opportunity by Roger Draper and Steven Martens to go and start this process, which was more of a development on the team which was in Euro/Africa Division II relegation so we were really down at the lowest ebb."
Smith's first responsibility as captain was Britain's Europe/Africa Zone Group II relegation play-off on the grass at Eastbourne in July 2010, with the team needing to beat Turkey to avoid a relegation to Group III, alongside the likes of San Marino, Andorra and Armenia.
What Smith lacked in experience he made up for in careful preparation, and turned to experienced doubles coach Louis Cayer – who helped Jamie Murray become world No.1 this year – as well as senior LTA coaches Nick Weal and Colin Beecher, all three of whom were a key part of last year's victorious team.
"I can remember I sought a lot of advice beforehand from people closest to me, like Judy Murray," recalls Smith. "I was really trying to draw upon the way in which we could start the process and deliver the coaching and the captaincy.
"The main thing for me was to try and help the players when they came along – that week at Eastbourne was not just to give them a hit and keep them ticking over but to actually get some coaching.
"We had people like Louis Cayer involved, who maybe hadn't been used as much beforehand and people like Nick Weal and Colin Beecher who had been in the British game for so long and who had so much to offer and were desperate to roll their sleeves up and help."
With Britain's best player Andy Murray unavailable, Smith selected a team of Jamie Baker, James Ward and doubles specialists Colin Fleming and Ken Skupski for the tie at Devonshire Park.
Baker gave the team the ideal start with a 6-1 6-4 6-1 victory against world No.866 Ergun Zorlu before James Ward upset Turkish No.1 Marsel Ilhan, ranked nearly 200 places above him, 6-2 7-5 6-7(0) 6-1 to put the hosts in control.
Fleming and Skupski sealed an unassailable 3-0 lead in the doubles before Baker and Ward won their dead rubbers to secure a 5-0 whitewash victory and an unbeaten start for Smith.
"It was quite low profile compared with what we receive now," admits Smith. "The team was pretty low in the competition and we didn't have any high profile players in that team at the time, no Andy, no Jamie Murray but we started really well.
"I think that put down a marker of what was possible. I think often the team and I would be judged on whether you can create upsets and beat higher-ranked opposition from time to time. And that was a good marker to put down and a great feeling obviously. It doesn't matter who you beat, winning feels really good."
Leon is a Dunlop Tennis ambassador & Dunlop Tennis is available at PWPSport.com and dunlop.com