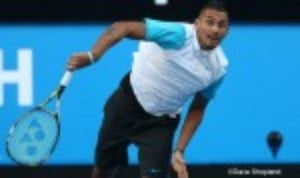 Kyrgios finally gets the better of Murray
Originally published on 06/01/16 00:00
Playing for the Australia Green team at the Perth Arena, Kyrgios defeated Murray 6-4 7-6(5) to give the Australians the lead in Wednesday's tie against Great Britain.
The Hopman Cup may not have the same status as an ATP Tour event or Grand Slam but for Kyrgios a win is a win.
"It goes on my win list, it doesn't matter what type of match you play you always want to win," he said "One hundred per cent he [Murray] wanted to win that tonight. I thought it was a good match."
The players have met four times previously, most recently in the first round at the US Open, where Kyrgios took his first ever set off Murray before losing in four sets. The 20-year-old, who is currently without a coach, is taking confidence from the victory and thinks he is in better shape than ever.
"I was a bit nervous going out there," he said. "I've lost to him the last four times we have played. I knew it was going to be tough. I thought I executed well. I practise my serve ten minutes a day. It's the thing I can always fall back on. It usually gets me the upper hand in matches. I don't really think too much about it. I just go up there and serve it and today was one of those days."
Murray said: "I served pretty well for the most part and Nick served well. It's quite a quick court so you can get quite a lot of free points on the serve."
Kyrgios said that the victory would give him confidence going into the Australian Open and is confident that the hard yards he put in during the off-season have helped him improve his game.
"I've just been working a lot harder and putting in a lot more hours on the court, not so much in the gym but on the court," he said.
With Lleyton Hewitt hanging up his racket after the Australian Open, the Australians are looking for a potential Grand Slam champion and so, unsurprisingly Murray was asked by local journalists about the young Aussie's potential.
"I think Nick is a fantastic player but there are so many things that go into staying at the top of the game for a long time and winning the major events. I think he likes playing on the big occasions and that's something that goes for him," Murray said.
"That's an important thing to have. But to know someone's potential, unless you are spending time with them day in and day out and without seeing their training habits and their work ethic, it's difficult to say. His game is good enough to be at the top of the game."
Hopman Cup

Group B
Australia Green v Great Britain

Nick Kyrgios d. Andy Murray 6-4 7-6(5)
Heather Watson d. Daria Gavrilova 6-7(2) 6-2 7-5
Gavrilova/Kyrgios d. Watson/Murray 6-2 6-7(0) 11-9