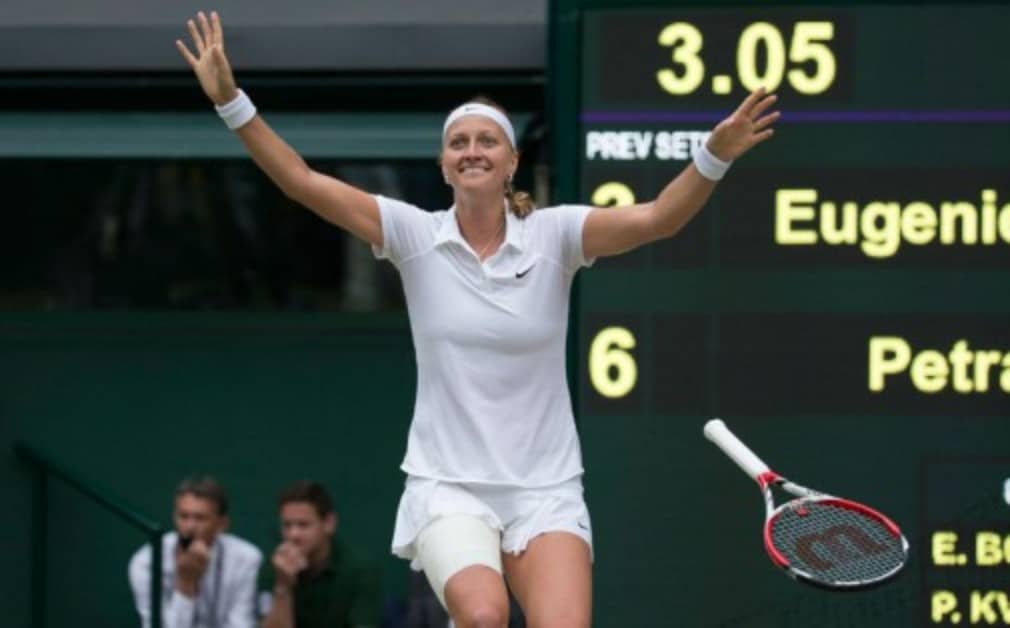 Kvitova: Winning Wimbledon more special than world No.1
Originally published on 07/07/14
The Czech captured her second Grand Slam title on Saturday with a stunning 6-3 6-0 demolition of Eugenie Bouchard. At 55 minutes it was the quickest women's final for 31 years and Kvitova's scintillating performance suggested she may achieve even more success at SW19 in the future.
Already the 25-year-old – a quarter-finalist at least for the last five years in a row – admits she feels at home at Wimbledon and says winning the tournament means more to her than being crowned the best player in the world.
"I feel this is something more special, to have this Grand Slam, especially Wimbledon, than to be No.1," said Kvitova, who has moved up to No.4 in the world – a position she has not occupied since her maiden Grand Slam win at Wimbledon in 2011, when she peaked at No.2.
"Of course the No.1 ranking means a lot to everyone but I'm just glad that I have this Grand Slam. We will see what the future brings. I will try everything I can to be there."
While Kvitova let loose from all corners of the court to thrash Bouchard in under an hour, it was ironic that a bit of restraint a few weeks earlier probably paved the way for her success. Playing at the Aegon International in Eastbourne, where she finished runner-up in 2011, Kvitova had to make a decision to either take painkillers to play a quarter-final against Heather Watson or pull out of the tournament and give a hamstring injury time to heal. She opted to do the latter and, three weeks later, after lifting the Venus Rosewater Dish for a second time, she unsurprisingly stands by her decision.
"That moment was really difficult for me definitely," said the Czech. "I wanted to play. Of course, I wanted to have more matches before Wimbledon, like in 2011 when I played the final there. But in the end it was a great decision not to play, because otherwise I don't know how I would have felt in the first round at Wimbledon when I played on Monday. I'm definitely glad we did that. I'm sitting here and my leg is quite okay."
Watching from the stands on Saturday was another Czech woman who enjoyed the lawns at SW19, nine-time champion Martina Navratilova. Although Kvitova admits she is unlikely to match that number, she hopes she will have more success at Wimbledon in the future.
"I know that this is the best tournament for me," she said. "I have reached semi-final and had good results here for the past five years. I really enjoying being here. But I'm not really thinking about something more right now. I'm just glad I'm sitting here as the Wimbledon champion, and of course that I will do the best. I will still work hard. I hope it's not the end.
"Martina is a great champion but I don't think I can really achieve what she has. She has nine titles here! It's nice to see her in the locker room and she's smiling and she's happy for me. She really cheered for me. It's so nice to have somebody like her, she's a legend. She's really huge in the Czech Republic, everywhere, actually. I'm just glad that I have this huge fan."