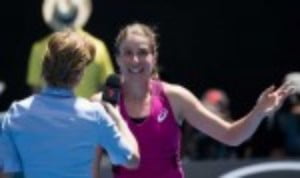 Konta to meet Kerber in Australian Open semi-finals
Originally published on 27/01/16 00:00
The British No.1 defeated qualifier Zhang 6-4 6-1 to set up a semi-final against Germany's Angelique Kerber who beat Victoria Azarenka.
Konta, who 12 months ago was ranked No.144 in the world and lost in the first round of qualifying in Melbourne, came through her quarter-final in much the same manner as she has advanced through her previous rounds. She served well, she was ruthless with her forehand and she talked after the match about maintaining a focus no matter what was at stake by winning the match.
"I just wanted to make sure I was executing to the best of my ability what I wanted to get done out there," she said. "I felt I did that. I really enjoyed my time out there. It could have been a first round, could have been any round in this tournament."
Her opponent today had already played seven matches before she stepped on Rod Laver Arena, having come through qualifying before her fairytale run to the last eight. World No.133 Zhang, who was 0-14 in Grand Slam matches before the tournament, defeated four higher-ranked players, including No.2 seed Simona Halep in the first round.
After her fourth-round win against Madison Keys on Monday, she said she was very tired, and she admitted she had felt slow on court against Konta. But taking nothing away from her opponent, Zhang said: "Today, congrats she played so well."
Konta was forced to dig deep in the first set; having taken a 5-2 lead she serving for the set after 31 minutes, but it was another 18 minutes before she finally took the set 6-4 on her sixth set point. The second set was more one-sided. Zhang broke Konta in the second game, but failed to win another game after that. Although the match was won with Konta's ball clipping the net, it sealed victory nonetheless.
"It was a bit anticlimactic, wasn't it?" Konta joked after the match. "I have a lot of respect for her as player. I've known her for quite some years, and I think what she achieved her is incredibly special. That's what I told her at the end of the match, that I was really happy to see her back." At the end of the match the players embraced at the net. "She is a very nice girl," said Zhang. "She's very good friend of mine. Very good job this two weeks."
Despite being the higher ranked player, it was somewhat of a surprise win for German Angelique Kerber in the other quarter-final, beating Victoria Azarenka 6-3 7-5. In their six previous meetings Kerber had never defeated the two-time Australian Open champion and has only taken two sets from her.
No.7 seed Kerber believes she is playing some good tennis. "I served very well and was moving good," she said. "I think the key from this match was that I was playing and I won the match. She didn't lose it; I actually won it."
Kerber is a left-hander who will go into the semi-final as the favourite as the higher ranked and more experienced player, having played in a Grand Slam semi-final at the 2011 US Open and Wimbledon in 2012. From Konta's point of view this does not matter, having beaten seven-time Grand Slam champion Venus Williams in the first round.
"I mean, whether you're the favorite or the underdog, I think that's very much a circumstantial thing outside of the match that I'm playing," said Konta. "I don't really think about that. It's neither here nor there for me. For me it's just about going into every match and being very clear on what I want to achieve out there and being very process orientated and sticking to my beliefs and really then not judging myself on the results that come.
The semi finals are played from 1.30pm local time (2.30am UK) on Thursday.
Serena Williams (1) v Agnieszka Radwanska (4)
Jo Konta v Angelique Kerber (7)