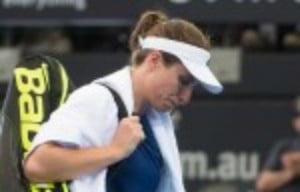 Konta retires from quarter-final
Originally published on 04/01/18 00:00
Despite taking the first set 6-1, hitting 16 winners and making the No. 3 seed look decidedly average, the British No.1 was unable to sustain the level.
"In the first set she was playing very good," admitted Svitolina." You know, there's not so many things that I could really change."
The second set, which contained some high quality tennis from both players lasted 62 minutes and went to a tiebreak, was eventually won by the Ukrainian.
At 1-2 in the third set, Konta called for the trainer and after a brief conversation went off court for a medical timeout during which she received treatment to her right hip.
Returning to court to play just two more games, Konta eventually called time on the match and made a quick exit.
Speaking after the match Konta said, "Hopefully it's nothing more than a low-grade strain and more muscle spasm than anything."
She says she will find out more on Friday morning. "I'll wake up, see how I am, and then, according to that, I will see if I go get a scan or not."
To clarify where the injury was she said. "Yeah, kind of right hip, leg, thigh, groin" and confirmed the injury happened in her service game – the second game of the third set. She has never had any injury like this before.
Before sustaining the injury, Konta had played some solid tennis in this match and in her previous two matches.
"I would like to think that the more matches I play, the quicker I'm able to find my level in matches at the beginning," she added. "I think that's kind of what happened today. I found how I wanted to play earlier on.
"Even in the second set, to be fair, I didn't do too much wrong – and there wasn't a lot in it for me to come out from that match, coming through in two sets. So I think overall I've played better and better tennis and I've managed to really fight through some challenging situations."
Konta is due to play in Sydney next week, before heading to Melbourne for the Australian Open. Asked if she will play in Sydney, she said. "The most important thing is to listen to my body, listen to how I'm feeling in the morning, and really take it kind of step by step."