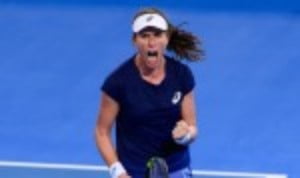 Konta outplays Keys
Originally published on 01/01/18 00:00
The Brit, playing her first match under new coach Michael Joyce, emerged the victor from a high quality contest to finally end her losing run – which began in early August.
"To get the chance to play such a high-quality match so early on is only a good thing to me. So I'm very happy with that," said Konta. "To be able to come through in a three-set match as well and to get that much court time, it's a good thing."
The pair had not played since 2016 and both have recently carried injuries, big-hitting Keys to her wrist, while Konta's year was cut short by an injury to her left foot.
"With any player like that, you go in knowing that there's going to be certain parts of the match and certain points that are just going to be completely out of your control and you're kind of just there as a prop," added Konta.
"But I knew that I was going to have opportunities to work, work my way into points and work my way into rallies and to string them together. I just trusted in my strength to be able to be out there as long as I needed to kind of bully my way into the match."
Keys who reached the US Open final in 2017, said she was pleased with the level of her play today.
"It was damn good tennis today." said Keys "I haven't played a match in four months, so it's like a win for me. I think if I played the way that I played against most people today, I probably would have won. She happened to be better. Too good."
Konta, the No.5 seed here, will play Australia's Ajla Tomljanovic in the second round. The pair has never met before.
"I haven't seen her play too much in recent years just because I know she has struggled with injury, but she's a good player," said the British No.1.
Konta has also teamed up with Elina Svitolina in doubles. If the 26-year-old wins her next singles match, then she could encounter the Ukrainian in the following round.