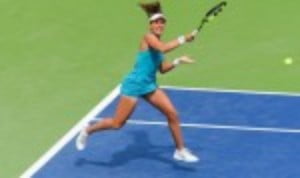 Konta makes early exit
Originally published on 28/08/17 00:00
Despite racing into a 4-1 first set lead, Konta did not play with the consistency that has seen her reach the fourth round or better at five of the last eight Grand Slams – including two semi-final finishes (Australian Open 2016, Wimbledon 2017).
Konta won the first set 6-4 in 35 minutes but lost the match 6-4 3-6 4-6 in two hours and 17 minutes. Krunic has only advanced past the first round of a Grand Slam twice, but on each occasion she has gone on to do well. The Serb reached the fourth round at the 2014 US Open, and made the third round at Wimbledon in 2015.
"She played consistently much better than I did," admitted Konta. "I think she was able to raise her level throughout the match, and mine fluctuated a little bit up and down".
The Brit made 42 unforced-errors and much of Krunic's success was based on her ability to absorb pressure and make her opponent hit one more ball.
"She played very freely," said Konta. "She moved incredibly well."
Earlier this year, Konta won the most prestigious title of her career in Miami and she was one of eight players who could have ended the US Open in top spot. This result may have been unexpected, but the World No.7 has always stated that nothing comes easy.
"I don't take anything for granted," she said after the match. "I think it would be quite obnoxious of me to come in here expecting I have a right to be in second week."
Based on her results and what she can achieve in the Asian swing, there is a strong possibility that Konta will qualify for the season-ending Championships in Singapore for the first time.
"The goal is to stay healthy and play a full season, but also to keep trying to get better. I think if anything, today gives me a great opportunity to do just that. I've got still a few tournaments left in the season, If Singapore is in the cards for me, then I will take it and be very grateful."
Konta was making her fifth main draw appearance in New York and she had advanced to the fourth round in her last two appearances.
"It's a sport" she said. "I think to have a healthy perspective on that, in general, goes a long way."
"I'm looking forward to going home and spending some time with my parents. I haven't gotten to do that much, so I think being home is always good for the soul."
This story is bought to you by Asics