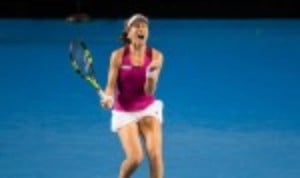 Konta into fourth round
Originally published on 23/01/16 00:00
Playing at 11am on a packed Hisense Arena, where the roof had been closed, and facing an opponent who had a heavily strapped left thigh, Konta won the first four games for the loss of only seven points, breaking her Czech opponent's serve in the first game. That she finished the first set with an ace was demonstrative of the focus the 24-year-old maintained throughout the match.
Konta, who also reached the last 16 at the 2015 US Open, failed to notice that her opponent was nursing an injury. "She was struggling with an injury?" Konta asked in response to a question about it after the match. "I didn't know. Well, that shows you. I think from my perspective you don't really try to pay attention to those sorts of things, because they are not really productive to me staying in the present and me just trying to take care of things my end."
One of three Czech women to advance to the third round, Allertova said said she had sustained the injury during her first-round win over Bethanie Mattek-Sands.
"It was hard running and it was hard to play every point like I wanted to play," she said. "It is getting worse and worse. It was a tough match today.
Konta, who broke Allertova in the opening game of the second set and again in the sixth game, closed out the match on her second match point to become the first British woman to reach the Round of 16 at the Australian Open since Jo Durie in 1987. Her next opponent is the No.21 seed Ekaterina Makarova, who she defeated in straight sets last year at Eastbourne.
"Like I always say, you know, new day, new match. The only thing I can go into the match with is I know she's left handed, and I have obviously seen her on the other end of the court," she said, "But in terms of circumstances and scenarios, we are at a completely different venue, different surface, different time of the year. So I'm really just going to focus on, again, things on my end and see where the match takes me."
Her opponent today said: "If she plays like she was playing right now, she can win. I wish her good luck".
Makarova, who defeated No.9 seed Karolina Pliskova 6-3 6-2 to take her place in the fourth round, was a semi-finalist in Melbourne last year. She sustained an injury during the US Open and did not play again for the rest of the year. She defeated two wildcards before her match against Pliskova. She knows the challenge that faces her in her match against Konta.
"She beat Venus in the first round. It shows that she is in good shape and also great fighter," Makarova said of her next match. "She's a tough opponent. She's aggressive. She's playing really good here all her matches. I will be ready for next one."
Konta's current WTA Ranking is No.47 is on track to be inside the Top 40 and if she were to win against Makarova her ranking could be just outside the Top 30. She is also guaranteed $193,000AUD ($135,000 US) for reaching the round of 16. For a player whose career to date earnings are just under $900,000 (US) that would be a handsome pay cheque.