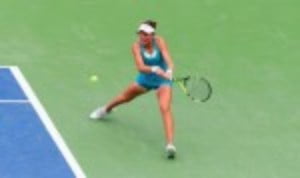 Konta eyes Asia
Originally published on 30/08/17 00:00
"The goal is to stay healthy and play a full season," she said after her first round defeat in the Big Apple.
It is perhaps easy to forget that the Brit only cracked the Top 10 for the first time after a semi-final victory over Madison Keys in Beijing last year. It's been a rapid rise for the current world No.7, and her memories from China are unlikely to fade anytime soon.
In 2016, Konta went to Singapore as an alternate for the WTA Finals where only the top eight players compete for the title – and she was disappointed not to get involved in the action.
"It was kind of bittersweet," she said of the experience.
This year, Konta is currently 7th in the race to the season-ending championships and is well positioned to make the cut. "If Singapore is in the cards for me, then I will take it and be very grateful," she said.
"The tennis season moves on quickly. We are very spoiled in the sense that we get a lot of opportunities week in and week out to perform and to play."
Apart from the Quebec International, the focus after the US Open switches to Asia, with a Premier event -The Toray Pan Pacific Open – starting in Tokyo on 18th September and a Premier 5 event in Wuhan commences the following week.
The swing culminates with the China Open in Beijing, and the WTA Finals are in Singapore between the 22nd and 29th October.
Konta remarked that in addition to staying healthy, she wants keep improving after her surprise early exit in New York.
"I think if anything, today gives me a great opportunity to do just that."
This story is brought to you by Asics