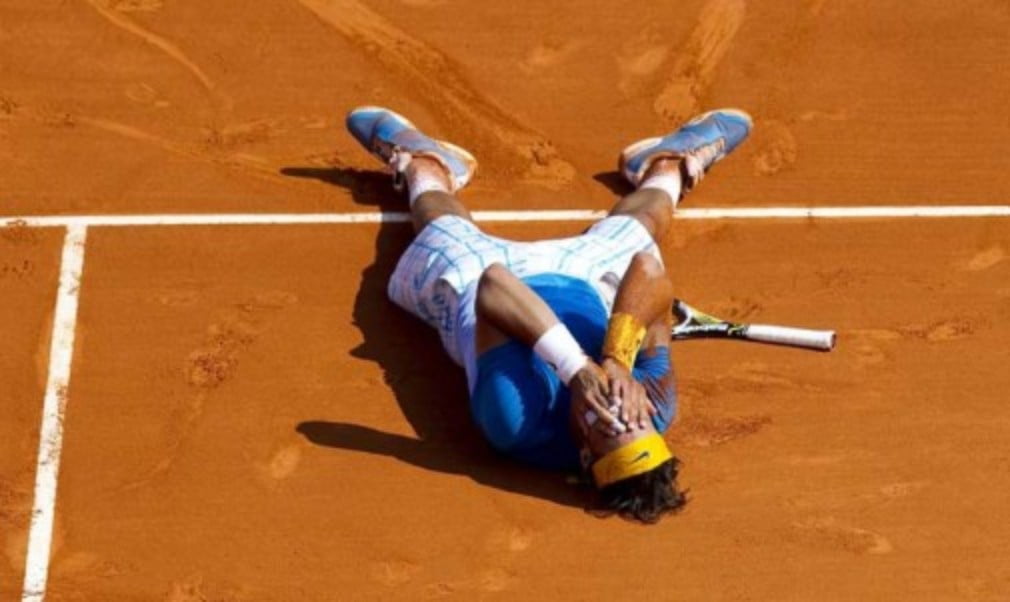 King of Clay: Nadal's most dominant wins
Originally published on 11/04/16 00:00
He may be without a title in 2016, but it's Nadal's favourite time of the year as the tour hits the European clay. With scheduled stops in Monte Carlo, Barcelona, Madrid and Rome could Nadal hit top form in time for Roland Garros?
We pick out some of the Spaniard's most dominant wins on la terre battue.

10 2007 Rome Masters quarter-final
d. Novak Djokovic 6-2 6-3
The pair had met at Roland Garros the year before but Djokovic had retired at two sets to love down. The Serb was a rising star in the game and was highly touted, but Nadal laid down a marker in the Italian capital with a straight sets victory. It would take Djokovic four years and six more matches to eventually get the better of his nemesis on clay.
9 2013 Madrid Masters final
d. Stan Wawrinka 6-2 6-4
Wawrinka was on a nine-match winning streak going into the tournament's deciding contest and had beaten the likes of Grigor Dimitrov, Jo-Wilfried Tsonga and Tomas Berdych to get there. But the Swiss' run was halted by an imperious Nadal performance, as the then world No.5 claimed victory in 71 minutes without dropping serve. Rafa bageled David Ferrer and Pablo Andujar en route to the final in another dominant week in front of his adoring fans.

Š— 8 2005 French Open quarter-final
d. David Ferrer 7-5 6-2 6-0
Ferrer may have been somewhat of an unknown quantity back in 2005, but he was nevertheless considered a clay court specialist. Nadal was still in the process of announcing himself on the world stage in the French capital as a teenager, so winning the final two sets for the loss of two games would definitely have made the world sit up and take even more notice. They contested the final eight years later, but the manner and context of this Nadal victory makes it far more noteworthy.

Š— 7 2007 French Open quarter-final
d. Carlos Moya 6-4 6-3 6-0
Nine years after his solitary French Open title, Moya was coming to the end of his career. Not that Nadal had any time for sentiment, breaking his compatriot seven times over the course of three sets allied to a 75% first serve rate. Moya, a close friend of Nadal, worked the defending champion as hard as possible early on, but could only manage fourteen points in a most one-sided final set.

Š— 6 2014 French Open semi-final
d. Andy Murray 6-3 6-2 6-1

Murray arrived at Roland Garros in 2014 without a clay court title to his name, but save for a five-set thriller in the fourth round against Phillipp Kohlschreiber, cruised through to the semis for a second successive year. As in 2013 Nadal progressed to the final but this time for the loss of just six games, as the Spaniard's groundstrokes pummelled the Scot off the court.

Š— 5 2008 French Open quarter-final
d. Nicolas Almagro 6-1 6-1 6-1
All of Almagro's career titles have come on clay, so on paper at least this would have looked like a potential stumbling block when the draw was made. Almagro even said before the match he would take the initiative and make Nadal defend. An hour and forty minutes later he departed Philippe Chatrier having won just three games, as Nadal strolled towards another French Open title in Paris.

Š— 4 2009 Rome Masters quarter-final
d. Robin Soderling 6-1 6-0
Given Soderling's record on clay at the time, the one-sided nature of the result wasn't much of a surprise. But hindsight is a wonderful thing, and no-one could have predicted the turn round in fortunes when the pair next met, as the Swede inflicted Nadal's first ever defeat at Roland Garros a month later. "I'm expecting at least a text message from Borg," said Soderling, following one of the biggest Grand Slam shocks in recent memory.

Š— 3 2005 Monte Carlo Masters quarter-final
d. Gaston Gaudio 6-3 6-0
Another fairly innocuous looking result in the grand scheme of things, but consider this. The 2005 Monte Carlo Masters was the biggest clay court tournament since the previous year's French Open – which Gaudio had won. Add in the mix the fact Nadal was just 19 and still unknown on the world stage, and this one starts to look even more impressive and dominant with every viewing.

Š— 2 2010 Monte Carlo Masters final
d. Fernando Verdasco 6-0 6-1
In previous other eras, two Spaniards in a clay court final would normally mean fireworks. Nadal not only extinguished the rocket, he put out the bonfire in an 85-minute demolition of his compatriot. Verdasco in all truth was a sitting duck in the championship's deciding match, as the solitary game he did win was one of just 14 Nadal dropped in five matches that week.

Š— 1 2008 French Open final
d. Roger Federer 6-1 6-3 6-0
Many billed this as Federer's best chance to beat Nadal on the red dirt, claiming he had been saving himself in the early rounds for an assault on the Spaniard in the final. What actually occurred that day in Paris was the Swiss' most humbling Grand Slam final defeat, as Nadal destroyed the world No.1 for the loss of just four games in one hour 48 minutes, the shortest title match at Roland Garros in nearly thirty years.