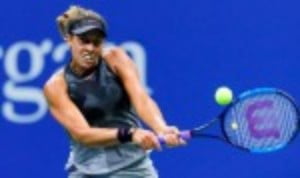 Keys into last four
Originally published on 06/09/17 00:00
The 22-year-old hit two aces and two service winners to take the opening game to love and she never really looked back after that, saving three break-points in the third game.
This is the second time Keys has been in a major semi-final; she also made it through to the last four in Australia in 2015. What makes this one special, though, is the fact she underwent two surgeries on her left wrist at the end of 2016.
She was forced to miss the opening two months of the year because of her injury woes and the US Open is only her tenth tournament of 2017 after Indian Wells, Charleston, Madrid, Rome, Roland Garros, Wimbledon, Stanford and Cincinnati.
Her big serve is one of her greatest weapons and she boomed down eight aces against the Estonian, with coach, Lindsay Davenport, looking on.
At the end of her tightly-contested last sixteen match against Elina Svitolina, Keys went to her team box to celebrate her victory, but said it was 'mostly because I was about to start crying, so it was better to not have a camera on my face.'
They've stuck beside me and helped me through some really low moments," she said.
Today she seemed more composed at the moment of victory but in her on court post-match interview, her voice wobbled as she talked about how great it is to be in the last four.
The last time four American women made it this far in a Grand Slam was in 1985 at Wimbledon. Keys, Sloane Stephens, Venus Williams and CoCo Vandeweghe have followed in the footsteps of Chris Evert, Zina Garrison, Martina Navratilova and Kathy Rinaldi. It was 1981 when four American women made it to the semi finals of the US Open.
"I'm really excited," said Keys. "I'm proud of all of us for getting this far and it being USA all the way."
"I was really nervous. I mean, I think it's on top of, you know, coming back after having a big win the other night, and then all of a sudden being in a match where you're supposed to win. It was a lot," she said with a smile.
Keys has beaten Vandeweghe, her semi-final opponent, twice this year on the hard-courts of Cincinnati and Stanford, where she won her third singles title of her career.
This story is brought to you by Wilson, the global leader in performance tennis