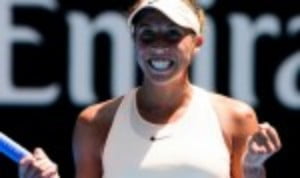 Keys dazzles again
Originally published on 22/01/18 00:00
The 22-year-old was in scintillating form once again as she powered past Caroline Garcia 6-3 6-2 to reach the last eight for a second time in four years.
The American, who is yet to drop a set in the tournament, served beautifully and intimidated her rival with her ultra-aggressive return game. She thumped 32 winners and committed 21 unforced-errors as she sent out a stark warning to her title rivals.
"I'm really excited, I think I'm playing well especially in tight moments and handling my emotions well," explained Keys, post-match.
The American was forced to watch last year's Australian Open unfold from home as she recovered from wrist surgery – and an enforced absence has helped her appreciate how much she enjoys the game.
"It definitely made me realise how much I love it and how much pressure I put on myself," she added. "Missing this last year makes me feel like I'm playing with no pressure and I'm just going out and playing my game.
"I'm just happy to be back out here again, and not at home in a cast."
It proved to be a difficult afternoon for Garcia, but she started the match well. An untimely double-fault from Keys gifted her a break in the first game, however she was unable to build on early promise.
From 2-2 onwards, the Frenchwoman was a mere bystander. The American was cracking forehands winners with unerring ease as she claimed four of the next five games to move within a set of victory.
The attacking onslaught continued in the second set, and Garcia was struggling just to win games. The 24 year-old did eventually get her side of the scoreboard moving again – but there was to be no dramatic twist.
Keys will challenge either Angelique Kerber or Hsieh Su-wei in the quarter-finals.