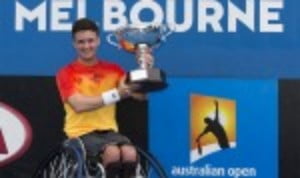 Kerber wins Australian Open
Originally published on 30/01/16 00:00
World No. 6 Angelique Kerber, who saved a matchpoint in her first round match against Misaki Doi, showed few signs of nerves on Saturday, as she hit 25 winners and made only 13 unforced errors. Serena who was bidding to equal Steffi Graf's record of 22 Grand Slams committed 46 unforced errors
"I knew before that I beat Serena once in Cincinnati, that I really must go out there to try to beat her again because she will not give it to me" said Kerber. "It was a really great match from both of us".
"When I hit the match point, I was just hoping to return the ball over the net. Just hoping, that I can make the ball and just going for it if I have the chance. Yeah, when the ball was out from her, I was, so happy. I mean, it's amazing".
"I think Serena's really a champion. She told me after that she's really happy for me and that I really deserved it".
Serena, who has never lost in Australian Open final said, "It was a really good, really intense match. I thought it was really exciting".
"I think I did the best I could today. You know, would I give myself an A? No. But today this is what I could produce today"
Kerber becomes the first German to win a Grand Slam singles title this century. The last German was Steffi Graf who won her final title at Roland Garros in 1999. Graf was also the last German to win the Australian Open in 1994 when she defeated Arantxa Sanchez Vicario.
"I think it's so good also for Germany, for the German tennis" Kerber said. "After Steffi, now somebody won a Grand Slam. It's like just amazing."
Kerber will rise to No.2 when the world rankings are released on 1st February.
"What's after 2 is 1 so I guess I better be careful," Serena joked after the match.