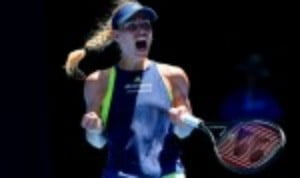 Kerber survives scare
Originally published on 22/01/18 00:00
The former world No.1 was greatly troubled by the variety on display from her gifted opponent, however she found a solution with moments to spare.
The German edged a tumultuous second set before dominating the decider as the frenetic pace took its toll on her weary rival. It had been a ferocious battle filled with lung-busting sprints, but it was the tournament favourite who advanced 4-6 7-5 6-2.
"Credit to her (Wei Hsieh), she played an unbelievable match," acknowledged the 2016 champion. "She started really well and I was running everywhere, but she always had the answers.
'She had a great week, and for sure we are going to see a lot more of her in 2018."
Kerber was forced to serve to stay in the match in the second set, and she believes it was her ability to play each point on its own merit that enabled her to wriggle free.
"I tried not to think about the score," she added. "I just tried to play every single ball. It was a very good match from the first point, really high quality."
Earlier wins in the competition over Garbine Muguruza and Agnieszka Radwanska underlined just how dangerous Wei Hsieh can be. She dropped serve in the first game in the match, but it was just a minor blip.
The 32-year-old hit back, and then began to work her magic. Her precise groundstrokes and nonchalant dropshots had Kerber scrambling – and she was a joy to watch as she showcased her full repertoire of shots.
Wei Hsieh made her move in the 10th game. A fortuitous net chord enabled her to secure a break and nab the set, but she fully merited a slice of good luck.
Kerber was noticeably frustrated at her inability to dissect the game-plan of her opponent, and she remained on the back foot in the second set.
The German's annoyance turned to delight, though, when Wei Hsieh nudged a backhand into the tramlines to fall 4-3 behind.
It was the breakthrough Kerber craved, but she fluffed an overhead and ballooned a forehand beyond the baseline to immediately undo all her good work.
Tension was building inside the Rod Laver Arena as an upset loomed large, however there would be no more lapses in concentration from the German. The 30-year-old is yet to taste defeat this year and she was resolute when it really mattered.
Wei Hsieh faltered in the 11th game, and it was the first sign that she was beginning to feel the strain. Kerber served out the set with aplomb and a decider was necessary.
The third set lacked the intensity and drama of the first two. Wei Hsieh had tried desperately to get the job done at the first opportunity, and she had nothing left to give in the decider.