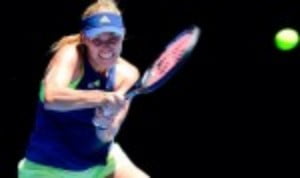 Kerber outplays Keys
Originally published on 24/01/18 00:00
Angelique Kerber extended her winning run to 10 matches as she thrashed Madison Keys 6-1 6-2 in just 51 minutes to reach the semi-finals of the Australian Open.
The former world No.1 was at her miserly best as she extracted errors from her overwhelmed rival and strolled in the last four for a second time.
It was billed as a clash between two red-hot performers, however Keys never settled and repeatedly misfired. She made mistakes at an alarming rate – and it quickly became apparent why she has such a dismal head to head record with the former champion.
"It's always tough to play against Madison," explained Kerber after her brisk win. "She hits the ball so hard and her serve is really fast. I was just trying, like I had done all week, to play my game and enjoy it."
From the outset, Keys appeared short of ideas and unsure of her strategy, but Kerber was keen to just focus on what she could control.
"I was just thinking about my game," she added. "I was not thinking about winners, errors or whatever and was just trying to stay in the moment and play every single point.
"The second set was 6-2, but every game was close. I'm just happy to be in the semi-finals again."
After the trials and tribulations of her last sixteen triumph, Kerber was relieved to enjoy a much quieter afternoon at the office. She struggled to cope with the flair and guile of Hsieh Su-wei on Monday, but revelled in the power-hitting from her latest rival.
Just as she did against Maria Sharapova, the German gleefully absorbed pace from her opponent and responded on the counter-attack. It's a winning formula for the 30-year-old, and she is closing in on a third Grand Slam title.
It was a deflating experience for Keys, who exited the tournament with a whimper. It was a sobering end to a fortnight that promised so much for the 22-year-old, and her lack of versatility was exposed for a seventh time in eight meetings with German.
Up next for Kerber, is Simona Halep. The world No.1 overcame a stuttering start to thrash Karolina Pliskova 6-3 6-2 and make it through to the last four for the first time.
The Czech raced into a 3-0 lead but was quickly pegged back, and then overtaken. The Romanian won nine games in a succession to sap the confidence of her opponent and establish an unassailable lead.
"It wasn't my best start," acknowledged Halep. "I had to restart after three games and stop missing so much and move better. I then just started to open the court with my style and played well in the end.
"I served well today, so everything went pretty well for me."