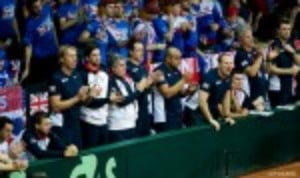 Ken Skupski
Originally published on 29/11/15 00:00
Ken Skupski has not played in Britain's Davis Cup team since Leon Smith's first match as captain five years ago, but the 32-year-old Liverpudlian reckons he played a key part in Andy Murray's performances in the final in Ghent.
Skupski (pictured above, seated, third from right) was with the team as a hitting partner, but jokes that he also helped Murray with his mental preparation. "I know I needed to build Andy's confidence this week," he said with a smile. "That is all part of my job."
The doubles specialist might have done his best work on the snooker table rather than the tennis court. Skupski was favourite to win a snooker event organised for the whole British team on Tuesday, when he took on Murray.
Towards the end of their frame the world No.2 was having trouble getting out of a snooker and Skupski allowed him to replace the ball.
"I was watching him not get out of the snooker," Skupski said. "But I was also not looking at the score because I was just enjoying the game. But as soon as Andy got back into it, the score became relevant and he got a big break."
Murray went on to claim victory, so did Skupski think that the wrong man had won? "I am a better snooker player," he said diplomatically. "I've since been the butt of all the jokes for the snooker."
Leon Smith, Britain's captain, asked Skupski to join the squad after it was known that Belgium would be Britain's opponents in the final. Ruben Bemelmans, one of the Belgian players, is a left-hander, as is Skupski. It was thought that Bemelmans might play in the doubles, although in the end he played only in the singles against Andy Murray on the opening day.
"All this week I have been hitting with Jamie Murray, preparing him to play against a left hander," said Skupski. "At the start of the week Jamie was quite tired after the O2 finals so we hit a little bit less than we probably normally would do. But as the week went on he started to play more tennis."
On match days Skupski has assumed another responsibility. On Saturday, prior to the doubles rubber, Britain's specialist doubles coach, Louis Cayer, said he had a job for Skupski, who explained: "Louis said: 'OK, it's time we started to teach you how to do some of the statistics for the doubles'. I wanted to just cheer and get on with it.
"There were two of us, me and Nick Weal. I was working on Jamie and Andy's service directions, whether they were playing I-formations, whether they were winning points from the formation.
"I also monitored the opponents' return positions, their shot placement. I was charting multiple stats. It needed a lot of concentration. Every other game I was noting four or five things in one point. This lasted through the whole match, so there was not as much supporting, as I would have liked. There was a bit more stress."
So how were the statistics used? "I can't tell you what I did with those stats," Skupski said with a laugh. "That is between us and Louis."
He added: "Jamie was struggling on his serve yesterday but his percentage of first serves was actually really high. It was the first volley that became an issue, but I think he was actually stressing about his first serve. I am not sure he was aware of that.
"The statistics prove it is the games where he was thinking – so it is information to pass on. That can make a player feel more confident about their game. Jamie managed to pull through a really tough game in the middle of the fourth set where he saved seven break points."
So does Skupski, who is still in the world's top 100 in the doubles rankings, look like he's turning into a coach? "I'm not hanging up my rackets just yet," he said. "Louis believes in me."
Skupski plays doubles with his younger brother, Neal, who is 26, and this has given him a taste of mentoring. "I have become a bit more relaxed too," he said. "I try and understand how things work for other players. It's not always about how it works for me. That's why I think Louis and Leon understood what I brought to the team. And I play my part."
Skupski described Smith as "a very chilled out guy". He explained: "He listens to the guys. We all get on really well with him and we play for him. We do our jobs and he's very good at organising. He's got all the individuals into the right positions to do their jobs prior to the event.
"I've been really fortunate to be around the team, to see all the guys, the way they prepare, especially Andy. It's been great. Hopefully this will not be the last time."