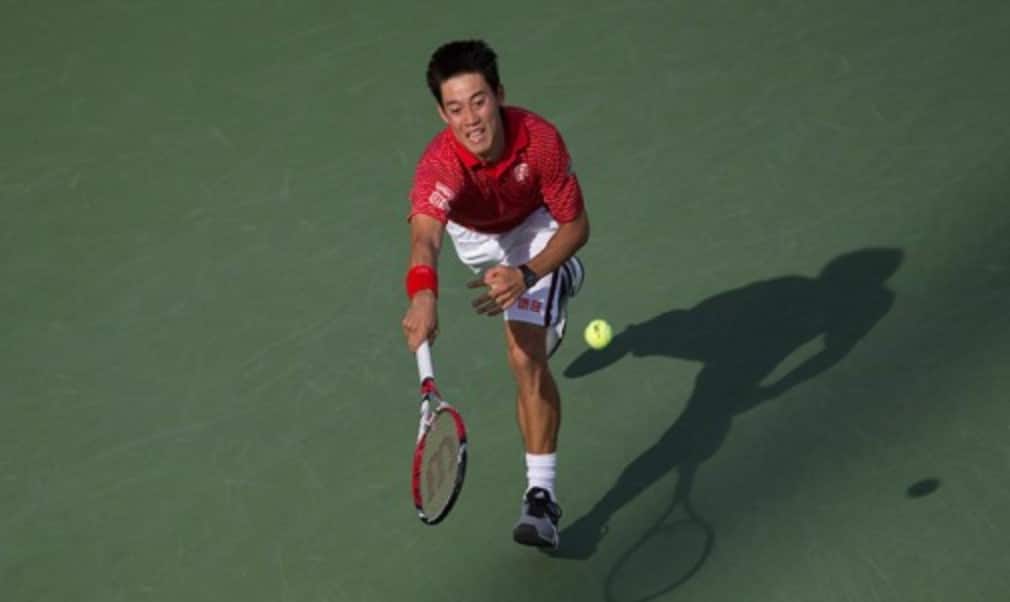 Kei Nishikori: Writing history at the US Open
Originally published on 06/09/14
Snapped up by Wilson and global management agency IMG as a young player, and more recently by Uniqlo, Nishikori has promised his sponsors much. On Arthur Ashe Stadium this week he has hogged the limelight, or perhaps more accurately the daylight and the floodlights.
His fourth-round match against Milos Raonic lasted four hours and 19 minutes and finished at 2.26am local time. Even when it finished there were plenty of his fans here to see their man through. "I was very happy to see a lot of people even two o'clock at night. I don't even know how they got back home", he joked after the match.
Born in Japan, the 24-year-old now lives in Bradenton, Florida, and is well aware of the trail that he is blazing for Japanese tennis. He has surpassed the record he equalled at the 2012 Australian Open, of Shuso Matsuoka who made it to the quarter-finals of Wimbledon in 1995. Of the fact that he is the first Japanese man in 96 years to make it to a US Open semi-final, he said: "I am very honoured to make history".
His passage to the semi-final is perhaps more remarkable as coming into the tournament he had a cyst removed from the big toe of his right foot, which kept him off the practice courts. "I was doing a lot of training, but not tennis-wise", he said. "I started playing points a couple of days before the tournament. I wasn't expecting big results like this, but, you know, after the first round I got more confidence in my foot".
Nishikori has also gained more confidence since January when he started working with former world No.2 and 1999 French Open Champion Michael Chang, who incidentally is one of four former players who line up with the semi-finalists as coaches at the US Open (Boris Becker, Stefan Edberg and Goran Ivanisevic complete the line-up). Chang has helped his man in many ways, including developing the mental side of his game. "He (Chang) is very strong mentally," said Nishikori. "He's telling me a lot of things, to stay focused in the match and never get frustrated too much and always pump up yourself".
After his quarter-final win over Stan Wawrinka, which lasted four hours and 15 minutes, Nishikori said that Chang told him: "Congratulations on winning this battle. Two in a row. But he also said, It's not done. Stay focused and try to recover".
Nishikori is enjoying his time at Flushing Meadows, "It's been great, said Nishikori, who plays with a Wilson Steam BLX. "Especially playing well in all the matches. Especially these two matches, beating top-10 players. I look forward to playing the semis".
Nishikori may have lacked court time coming into the US Open, but he says: "It's great for my confidence to play two consecutive five-set matches and a lot of 7-6". He faces Novak Djokovic in the semi-finals and if Nishikori is able to play with the same intensity and confidence as he has shown so far, it promises to be an intriguing encounter, not to mention an historic one and perhaps even a long one.
This story is bought to you by Wilson, Official Ball of the US Open since 1979