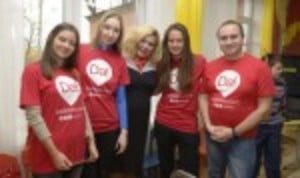 KasatkinaŠ—Ès Good Work
Originally published on 15/09/17 00:00
But Daria Kasatkina is proving that being successful on the court does not have to mean you have little time for outside interests.
The 20-year-old Russian, who enjoyed her most successful run at a Grand Slam tournament when she reached the fourth round of the recent US Open, manages to find time in her busy schedule to support a voluntary organisation, Dadabro, that was jointly set up by one of her sponsors, the entrepreneur Andrey Ignatyev.
Ignatyev graduated in 1987 from Moscow State University of Aviation, having studied mechanical engineering. Most of his career since then has been spent in tourism. In 1990 he co-founded BSI Global Group. Fast forward to 2012 when Ignatyev co-founded Dadabro, a voluntary organisation, open to all employees of BSI Global Group.
Staff give up their leisure time to visit terminally ill patients, help in orphanages or look after animals in shelters. In 2016 volunteers organised and held more than 800 charity events.
Tennis is one of Ignatyev's interests, which is how the Kasatkina sponsorship came about. "We are pleased to provide sponsorship not just to the rising star of tennis, but to a person who shares the principles of our volunteer movement," he said.
In October 2016 Kasatkina visited an orphanage in Ivanteevka near Moscow. She delivered much-needed supplies and spent time with the children.
"Having understood the objectives of Dadabro, I wanted to become a volunteer," Kasatkina said. "I am now also a member of the Board of Trustees. I like to get involved whenever I can.
"The Dadabro project is aimed at all people, regardless of race, gender or religious beliefs. At its core is the principle of carrying out good deeds for those who most need them."
Ignatyev said: "Daria embodies the philosophy of BSI Global Group – the desire and the will to win, a positive attitude and confidence in the future.
"Over the 25 years since its inception the BSI brand has grown to a global level, but we never forget our Russian roots and support Russian sport. Daria Kasatkina is part of this."
Kasatkina, currently ranked No. 31 in the world, has shown the same enthusiasm for her tennis this year as she has for her off-court interests.
The young Russian started her 2017 season well, defeating the then world No 1, Angelique Kerber, in Sydney in the lead-up to the Australian Open.
In April, a month before her 20th birthday, "Dasha" as she is known, won the WTA Premier event in Charleston, beating her fellow teenager, Jelena Ostapenko, in the final.
At the time she told WTA.com: "When I was on the court after the last point I just wanted the moment to stop because it was one of the best moments in my life."
When Kasatkina rolled her ankle during a match in Rome earlier this year, she had doubts that she would be ready to play at the French Open, but after a determined effort to get back on court, she was delighted to be able to compete at her favourite Grand Slam, where she was the junior champion in 2014.
In New York four months later Kasatkina had mixed feelings after achieving her best ever result at a major. On the one hand she was pleased with her performance, but there was also disappointment at being defeated by a qualifier, Kaia Kanepi, when just one victory away from a place in the quarter-finals of the US Open.
"Before the US Open it was a little bit up and down so I suppose it was not a bad result," Kasatkina said. "I will just try to come back better and try to go on and improve in the next tournament."
Reflecting on the defeat to Kanepi, she added: "I have a lot of things to learn. One of the things that helped my opponent win was experience. In the important moments she was better than me. So I think it's everything, to play more matches, more tournaments. I think I will get better and better."
She believes the New York experience will help her in the remaining weeks of the season. "It gives me a lot of motivation, because now we go to Asia," she said. "I have three tournaments in a row."
It will not just be Kasatkina who benefits from that experience, but also all the people the young Russian touches with her off-court activities.