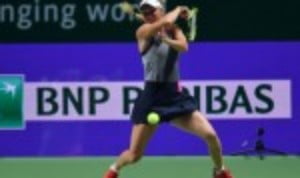 Joy for Wozniacki
Originally published on 29/10/17 00:00
The Dane, who had lost all seven meetings with the American prior to this evening, produced a display of the highest quality to prevent her opponent from becoming the oldest ever champion of the season-finale.
Wozniacki had to survive a late and spirited fight back from Williams before she could revel in a glorious 27th triumph. It was a deserved victory for the overjoyed 27-year-old, and she has rarely performed with such conviction.
"I'm still shaking," admitted the smiling Dane after finishing her campaign in the best way possible. "I was 5-0 up in the second set but she really upped her game, so I was just so happy to win in the end.
"Eight is my lucky number, so if I was going to beat her, then it was going to be today. I just went out there and did my best."
It can often take players' time to settle into a match of such magnitude, but both competitors came out the blocks firing. The standard of play in the first set was befitting the occasion, and it eventually went the way of Wozniacki.
The Dane, with her fine mix of defence and attack, moved a break ahead on two occasions in the opener but she was unable to shake off her gritty rival. Serving to stay in the set at 4-5, though, Williams committed four forehand errors to fall behind.
The first set was always likely to be of greater importance for the 37-year-old, who had taken the scenic route through to the final, and she struggled to stay with her relentless opponent in the second.
With a 5-0 second set advantage, it looked to be only a matter of time before Wozniacki was introduced to the Billie Jean King trophy – but her opponent was not done yet.
Williams began to swing freely and she roared back into contention after winning four games in succession. The crowd, who cheered her ever move vociferously, provided the American with inspiration, but there was to be no dramatic turnaround.
Serving to stay in the match at 4-5, Williams offered her opponent an opportunity to end the contest, and Wozniacki gleefully applied the finishing touches.
A delightful backhand nudged down the line sealed victory for the Dane, and she flung her racket in the air with delight before acknowledging the spectators and embracing friends and family.