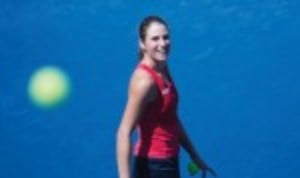 Johanna Konta
Originally published on 07/12/15 00:00
After a first-round defeat (albeit to Maria Sharapova) at Wimbledon, Konta went on a 16-match winning streak, winning two ITF titles in Canada before reaching the US Open fourth round as a qualifier. She eventually fell to Petra Kvitova, but not before she had beaten Garbine Muguruza and Andrea Petkovic in New York. Further wins against Petkovic, Victoria Azarenka and Simona Halep in Asia saw Konta surge up the rankings, overtaking Heather Watson as British No.1.
We talk tennis, gelato and life with new British No.1 Johanna Konta, who has a fantastic sense of perspective after enjoying a sensational run of form since Wimbledon.
This is an extract from tennishead Volume 6 Issue 5. For more great features, in-depth gear reviews and stunning images subscribe to tennishead today. ´è_´è_´è_
You have two Spanish coaches, Esteban Carrill and Jose-Manuel Garcia. Do you speak Spanish?
I speak a little bit of Spanish and I can get the gist of a conversation. I don't live in Spain. I spend a bit of time there because of my team and it would be incredibly unfair of me to ask them to come to London to train. I enjoy spending time in Gijon where they are. It's a very relaxing area of the country. The people are incredibly nice. The food is awesome and if the food is awesome I am happy. My parents come down sometimes and my boyfriend really enjoys being there too, so I feel very fortunate and blessed that I have such a nice area to go to.
Do you consider Eastbourne to be your home town?
My parents live in Eastbourne. I don't spend a lot of time there because of my schedule. Whenever I'm in the UK, if I'm training in London, for example, I love going home to my parents. We have a very close relationship and this lifestyle has brought us very close together. It's always nice to go back to them whenever I can. I am a hermit when I am in Eastbourne. I stay in the four walls of our home.
Really? Do you go out at all there?
I love the cinema. I've got the unlimited Cineworld card. I love the cinema and there is literally one next door to where we live in Eastbourne. Every time I go, well 95 per cent of the times I go, I get popcorn and a slushie.
Salt or sugar popcorn? Salt.
You like gelato? What is your favourite flavour?
Hazelnut is my favourite flavour. I get this talent [for eating gelato] from my mum. Anyone who has ever met my mum can attest to this – she is a machine when it comes to gelato eating. I inherited this ability from her, I'm very proud of it.
Do you think gelato is a guilty pleasure?
I am not guilty at all about it!