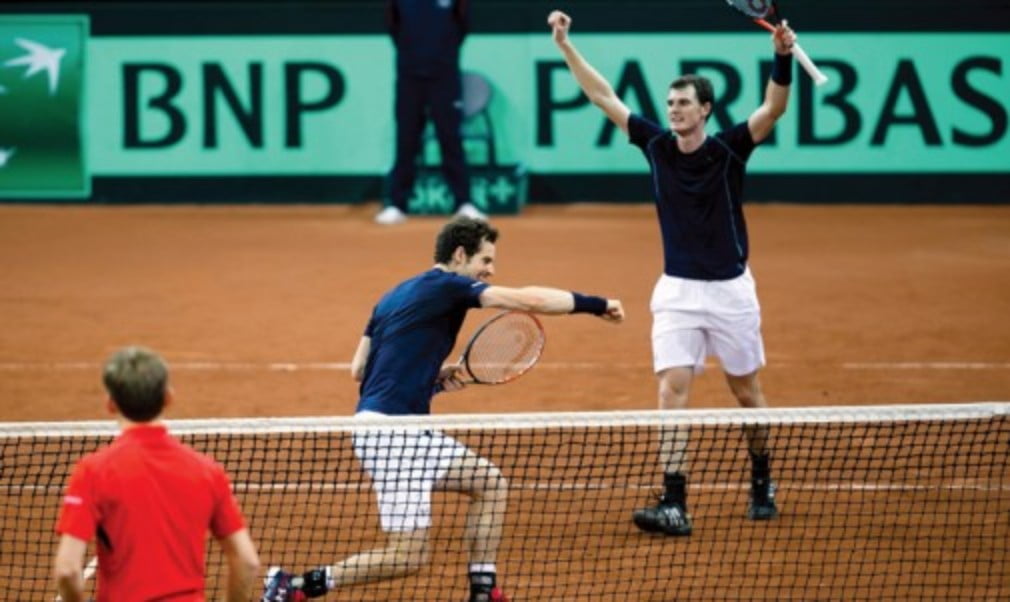 Jamie Murray: Soaking up the pressure
Originally published on 16/09/16 00:00
Murray and younger brother Andy are scheduled to take on Federico Delbonis and Leonardo Mayer in Saturday's doubles rubber, with the British pair bidding to maintain their unbeaten record in Davis Cup doubles. However, with Andy Murray's five set singles match against Juan Martin del Potro lasting over five hours, Captain Leon Smith may have to re-think his options.
Murray Snr, who spent eight weeks as the world No.1 doubles player earlier this year, has played 12 Davis Cup ties for Great Britain and has a 9-3 record in doubles. So, whoever he partners, in Jamie Murray, Great Britain have one of the world's best doubles players.
"I probably enjoy it more than playing on the tour," admits Murray, "because we are always playing in front of a big audience, that's what's fun, you are representing your country.
"There's noise after every point so every point seems to have more significance than it should because of course with the tennis scoring system some points are more important than others. It's difficult sometimes to remember that in amongst all the noise and the fanfare that is going on."
Murray's first Davis Cup tie was in 2007 against the Netherlands in Birmingham. He and Greg Rusedski defeated Robin Haase and Rogier Wassen in the doubles, in what turned out to be Rusedski's last Davis Cup appearance. Murray also played his only singles rubber in Birmingham, losing to Haase in a dead rubber on the Sunday.
Later that year Murray partnered Tim Henman in the World Group play off tie against Croatia at the All England Club. The pair defeated Marin Cilic and Lovro Zovko in four sets in Henman's last Davis Cup rubber.
"That was a cool thing to do because I had grown up watching Tim and Greg and looking up to them, and then all of a sudden to be representing your country with them it was special," said Murray.
"It is tough to beat those experiences. I am sure when I look back on my career those are maybe my biggest memories because that's what has got the strongest emotions."
None more so than the last time Great Britain played Argentina in 2008 on the clay at Parque Roca in Buenos Aires. Then only 21, Murray's partner on that occasion was Ross Hutchins. They lost 6-2 7-6(11) 6-0 to Jose Acasuso and David Nalbandian.
"I think the first two sets were pretty close," Murray recalls, "it was quite a long tiebreak and of course the crowd were kind of cheering, booing, all that sort of stuff and then we got a set point. I can't remember what the score was but all of a sudden you could hear a pin drop and for me that was probably my biggest memory of playing there. I have never felt like that anywhere else.
"That's over eight years ago. I don't really remember that much about the match, just that kind of moment," said Murray.
While none of the nominated Argentina team are doubles specialists, captain Daniel Orsanic's pairing of Mayer and Delbonis will not be an easy match for the British pair. It would be the sixth time that Jamie had stepped on court alongside his brother on Davis Cup duty.
"I always enjoy playing with Andy," says Jamie. "I know what I am going to get from him, the fact that it's a huge match, the importance of it, I'm not really worried about how he's going to handle that because he has done it so many times in his career and played so many big matches and important matches."
The doubles rubber can often be the decisive rubber in a tie, which puts extra pressure on Jamie, the doubles specialist. In Great Britain's last five ties, Murray and his partner have won the doubles to give Britain a 2-1 advantage going into the reverse singles rubbers on Sunday.
"The doubles was huge for us because you'd always have a lead going into the Sunday with Andy to play," says Murray. "But now Kyle and Dan have got legitimate shots to win matches it is great for us because it is not such a disaster if Andy were to lose because we have still got other ways to win a rubber. That's exciting for the team.
"For me growing up I wanted to play the biggest tournaments in the world, and play for my country, play in front of a lot of people, and that's what is exciting for me. If it comes with a bit of extra pressure, then fine, that's sport, that is what it's all about."