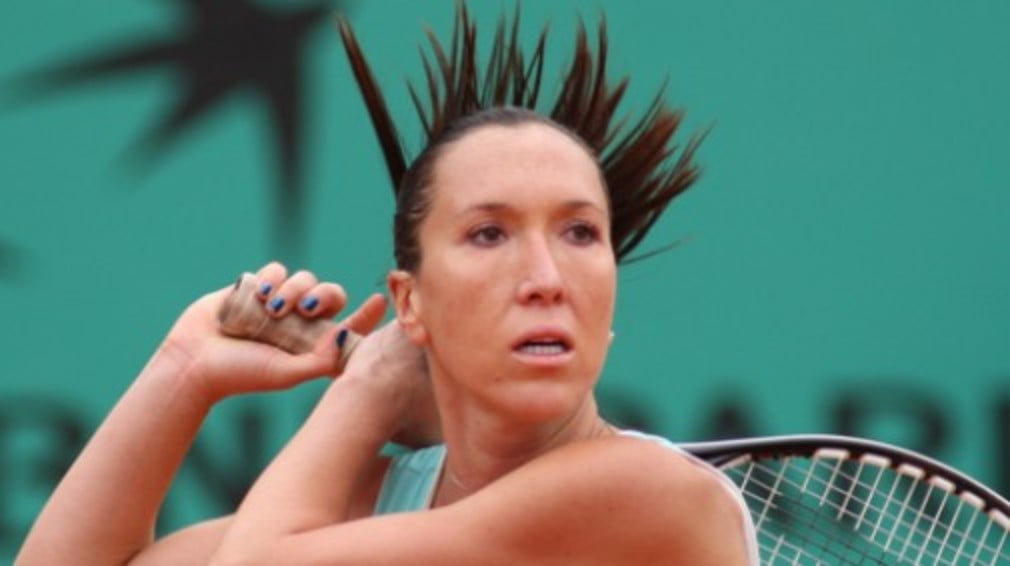 J.J. has her eyes on the prize in L.A.
Originally published on 26/02/10 11:07
Jelena Jankovic will be crowned world No.1 if she can win in Los Angeles this week – and she's going the right way about making it happen.
The Serbian was among the winners in Thursday's third-round action at the East West Bank Classic, defeating Melinda Czink of Hungary 6-3 6-2, and will overtake Ana Ivanovic at the top of the rankings with a title run.
In the best match of the evening, No.4 seed Dinara Safina came through three tough sets to defeat compatriot and qualifier Alla Kudryavtseva 7-6(1) 0-6 7-6(3).
But while Safina lives to fight another day, the seeds tumbled elsewhere – Sybille Bammer took out No.3 seed Anna Chakvetadze 6-4 5-7 6-2 before Nadia Petrova outlasted No.5 seed and fellow Russian Vera Zvonareva 6-4 7-5.
In other action, Victoria Azarenka defeated Australian Sam Stosur 6-4 7-6(4), No.10 seed Flavia Pennetta saw off Ai Sugiyama 7-6(5) 6-3, China's Meng Yuan cruised past Britain's Melanie South 6-2 6-3. And wildcard Bethanie Mattek downed Olga Govortsova of Belarus 7-5 6-2.
Meanwhile, the Russians are out in force in Portoroz, with three representatives in the quarter-finals of the Slovenia Open – but Slovenian hopeful Katarina Srebotnik is out.
No.1 seed Maria Kirilenko reached the last eight after beating Roberta Vinci 6-1 6-2. Despite being the tournament favorite, Kirilenko would have had reservations about the match against an opponent who has beaten her in the past.
"The first set went smoothly but then I lost my concentration in the second set and she won a few games in a row," the Russian said afterwards. "I was afraid I might lose track but fortunately I came back and saved the match."
The Russian joined compatriot Vera Dushevina in the quarter-finals, after the 21-year-old knocked out Britain's Katie O'Brien in the second round. Soon after, Elena Bovina completed the Russian hat-trick with a marathon win over French veteran Camille Pin.
The three-hour 6-3 5-7 7-6(6) result was an epic battle, with Bovina refusing to back down, even requiring medical assistance before the final set tie-break. She faces No.4 seed Anabel Medina Garrigues in the quarters.
"It was a long match and it was a little bit up and down," Bovina said. "I had a set and 5-2 and basically the match was over. Camille was a good fighter and she wasn't going to give it up. I played a few really good games and then the tie-breaker was also good."
"I started to have cramps in both my hamstrings. I didn't want to lose a tie-break for that so I called for a trainer. I took three minutes out, stretched, and it actually helped me to go through with the tie-break."
No.2 seed Srebotnik's hopes of a home win were dashed after Julia Goerges beat her 6-4 6-2. Despite making some unforced errors in the first set, the German continued her aggressive gameplan, which proved too much for the No.2 seed. She now faces 17-year-old Petra Martic in the quarterfinals.
"I am so happy to have won this match," Goerges said. "Katarina is a great player and it's always very difficult winning against such a player, especially before her fans."
Meanwhile, No.8 seed Sara Errani cruised past against Italian compatriot Mara Santangelo 6-2 6-4. "She plays very fast so she wasn't bothered by my game," said Errani about Santangelo. "But I tended to switch rhythm so she struggled.
"The balls bounce quite high here so it's not easy to aim and find the right distance. I don't know if it was the heat, but by the end I'm sure she was bothered by my game."
Errani faces Kirilenko in the quarters, with a 1-0 career head-to-head lead against the Russian after beating her at Miami early this year.