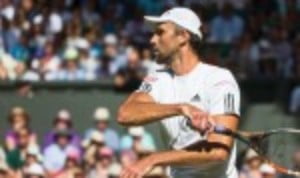 Ivo Karlovic: My serve
Originally published on 24/02/16 00:00
"When my serve is on I feel that nobody can return it," he said. "When my serve is broken it's usually because I break myself."
Asked if he considered Novak Djokovic to be the best returner of his serves, Karlovic pointed out that when he beat the world No.1 in Doha last year he did not have to defend a single break point.
The serve has always been his biggest weapon. "When I was young I used to practise it a lot," he said. "Firstly it was because I liked to serve. I grew up watching players like Goran Ivanisevic and Boris Becker and they hit unbelievable serves. And the other reason was because I didn't have anybody to hit with when I was 14 or 15. I would have to wait until the evening. All the courts were empty, so I would practise my serve a lot during the day."
This is an excerpt from "Gentle Giant" by award-winning tennis journalist Paul Newman in tennishead Volume 6 Issue 6. Subscribe to the magazine today.
What does he believe makes his serve so effective? Power? Placement? Variation? "It's a combination of all those things. There is also a little bit of a trick because there are guys who try to read it and guess a bit, so you have to know how to fool them, so they will believe that one thing will happen but then something else actually does. It's all a bit of a game."
In August 2015 Karlovic broke the all-time career record of 10,237 aces held by Ivanisevic, who was quick to congratulate his fellow Croat. "When I was young he was my hero," Karlovic said. "I think the only time in my life that I got star-struck was when I met him when I was about 15. To take the record from one of the greatest servers ever was just unbelievable."