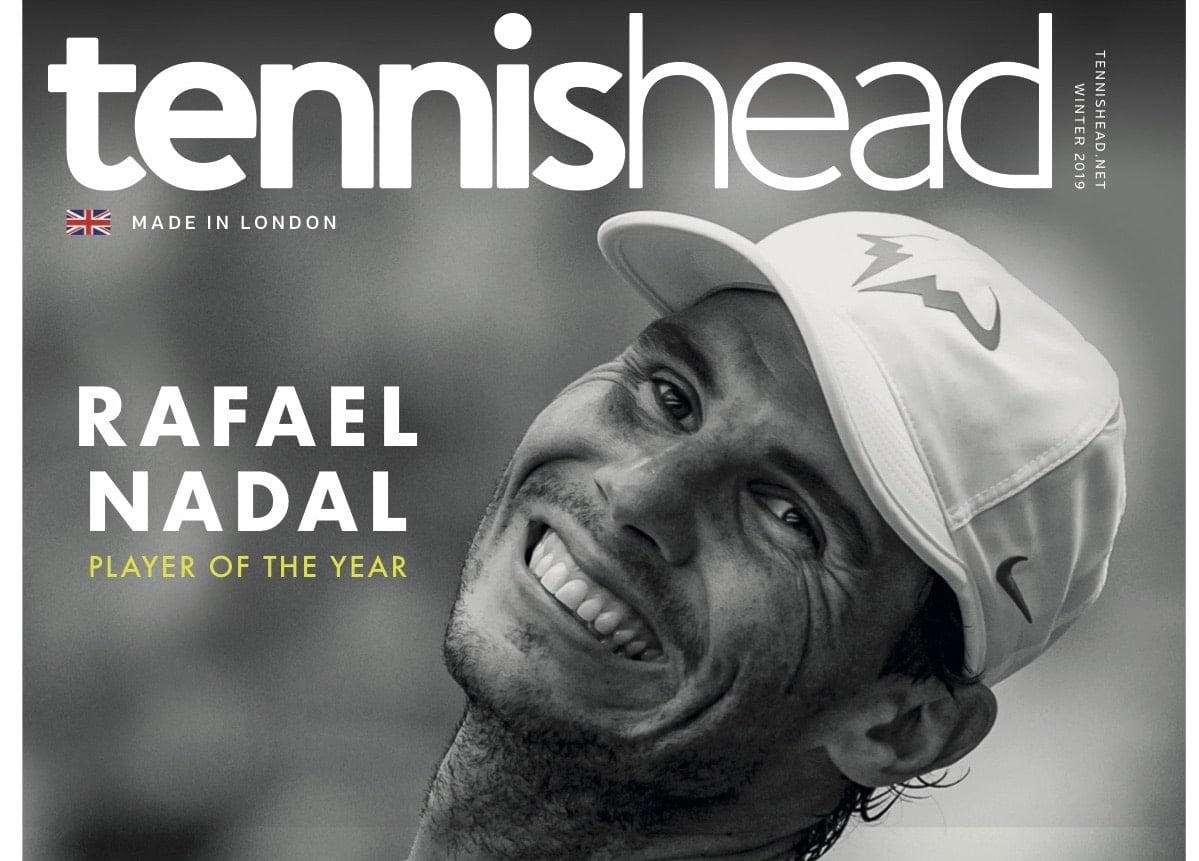 It's live! tennishead magazine's November 2019 issue is hot off the press with Rafa Nadal on the cover as our Player of the Year
The November 2019 issue of tennishead magazine is now live. You can enjoy the usual print version of tennishead or you can choose our new online version, tennishead DIGITAL
---
Click to read tennishead print magazine or tennishead DIGITAL magazine
---
tennishead Editor, Paul Newman, introduces the new issue of tennishead
The cover features Rafael Nadal, who is our male "Player of the Year" in the annual tennishead awards. Read the magazine to find out the reasons for our decision – and why Andy Murray and Dan Evans also feature in the awards. Meanwhile Nadal tells us why he has never sacked anyone in his entourage and explains how his close-knit team have helped him to stay at the top for so long, while Murray talks about his return from injury.
We also publish an extract from a revealing new book about Roger Federer by a Swiss journalist who has known the former world No 1 for 20 years. He goes behind the scenes to describe the role Federer's wife, Mirka, has played in his tennis life.
Our regular columns from Patrick Mouratoglou and Annabel Croft are as incisive as ever, Kim Clijsters explains why she will be making another comeback next year and we have an exclusive interview with Ashleigh Barty. The world No 1 tells us she will have no fears going into her home Grand Slam tournament in the first month of next year. We also look ahead to 2020 and we detail some of the changes to look out for in the sport next year.
Breaking news
You can now choose to read tennishead in print or in a new digital format. Just click the links below to choose your version:
or
As always we've got our incredible offer for subscribers of free Dunlop tennis balls which you can claim here
With one the best ever seasons of tennis now behind us, tennishead looks ahead to 2020 plus we have an exclusive extract from the revealing new Roger Federer book and exclusive interviews with Ash Barty and Kim Clijsters. Inside the magazine you'll also find:
Patrick Mouratoglou's exclusive column on Serena Williams

Andy Murray on his comeback year

The key matches that made Wimbledon, Roland Garros and the US Open

The tennishead awards for 2019

Review of Steafnos Tsitsipas's stunning victory at the ATP Finals

A preview to the 2020 season focussing on January's Australian Open

An in-depth look at the team behind Rafa Nadal's continued success

Exclusive columns from Annabel Croft and Jez Green

Two new competitions
You can now choose to read tennishead in print or in a new digital format. Just click the links below to choose your version:
or
As always we've got our incredible offer for subscribers of free Dunlop tennis balls which you can claim here