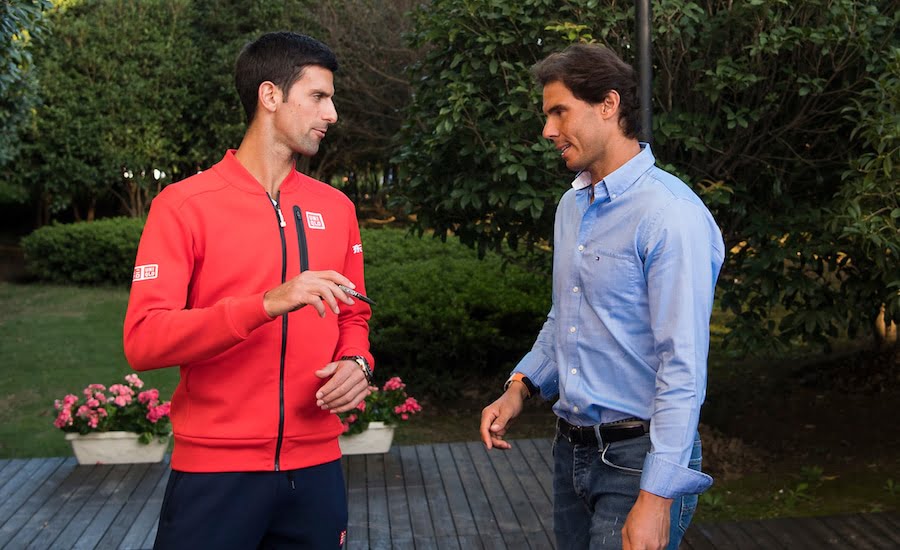 "It was very unusual" Novak Djokovic opens up on rare Rafa Nadal practise session
Novak Djokovic and Rafa Nadal have been the greatest of rivals for many years so for them to practise together in Paris was 'very strange' according to the Serbian
Novak Djokovic has revealed that practising with Rafa Nadal at the Paris Masters yesterday was "intense and competitive but respectful", just like their relationship has always been.
The two legends of tennis were preparing to kick off their campaigns to win the penultimate tournament of the year before they head to London for the ATP Finals with both players still in with a chance of finishing the season as world no.1.
Djokovic was asked how he felt about practising with his arch rival and he said, "Well, I enjoyed it, to be honest. It was great. It was a lot of fun. It was very intense and competitive, as you can imagine, obviously, but in a very respectful way.
"And, you know, we played a couple of days before that, an exhibition charity match in Kazakhstan. Also, we got to spend some time together. And obviously we are rivals but that doesn't prevent us from being respectful and treating each other in the right way and our teams as well.
"I have always had that kind of relationship with Rafa. And regardless of which course our careers went to and how tense maybe sometimes rivalries were, but we always had respect for each other.
"It was actually very unusual because we haven't practiced for years. And, yeah, it was strange because, you know, when I see him across the net, that means I'm playing him probably semifinals or finals of a big event, but this time it was a practice session. But nevertheless, the intensity was like a match."
Djokovic and Nadal are seeded No.1 and 2 in Paris so won't met until the final if they both make it through their previous rounds. with roger Federer having withdrawn from the tournament it seems more likely that these two great players will contest the final but in previous years there have been a number of upsets.
Look ahead to the rest of 2019 with our guides to every tournament on the ATP Tour and the WTA Tour. If you can't visit the tournaments you love then do the next best thing and read our guide on how to watch all the ATP Tour matches on television in 2019. To read more amazing articles like this you can explore Tennishead magazine here or you can subscribe for free to our email newsletter here