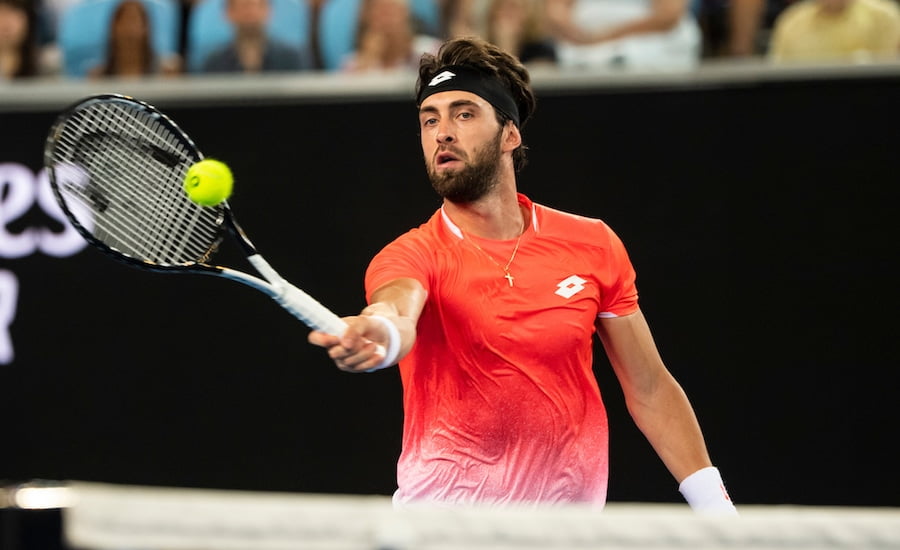 "It was a really weird decision" admits world No.24 Nikoloz Basilashvili in exclusive interview
Every professional tennis player has to get used to spending long periods on the road and, in this exclusive interview with tennishead, Nikoloz Basilashvili misses his home country as much as anyone
The 27-year-old Georgian spent most of his teenage years in the United States, trained in Turkey for four years when he turned professional and even now has to travel to Germany to work with his coach.
"I miss my country a lot," Basilashvili said. "I really love my country and I like to be at home. I think I will always want to live there. I think everyone who comes from Georgia loves the country."
Bordered by Russia to the north and by Turkey, Armenia and Azerbaijan to the south, Georgia forms a bridge between Europe and Asia. A country of only four million people, it features spectacular landscapes, including the Black Sea coastline to the west and the Caucasus mountains to the north. It has a rich and dramatic history and a reputation for outstanding hospitality and good food.
World-class tennis players, however, are a rarity in this part of the world, even though Alex Metreveli, the most successful player in the history of the Soviet Union, was a Georgian. The Georgian player most admired by a young Nikoloz Basilashvili was Irakli Labadze, who was beaten by Roger Federer in the Wimbledon boys' final in 1998, made the fourth round at the All England Club in 2006 and reached No 42 in the world rankings.
Nikoloz Basilashvili is the only Georgian to have won a title on the main tour and is currently the only Georgian with an ATP ranking. He won his first two tour titles last year, in Hamburg and Beijing, and broke into the world's top 20 this January.
Nobody in Basilashvili's family played tennis, but his father, who was a famous dancer in the Georgian national ballet, put a racket into his son's hands when he was only five. "I don't know why he chose tennis for me," Basilashvili said. "It was a really weird decision. It didn't make any sense."
Tennis clubs are few and far between in Georgia, but Basilashvili started to learn the game at the Leila Meskhi academy in his home city of Tbilisi, the capital. "Even from five years old my father was very serious about my tennis career," Basilashvili said. "He gave up a lot for me. I'm here now largely because of him.
"My family did not have a lot of money, but my father was always trying to help me travel to tournaments. We drove to many tournaments in Europe. We had a lot of very long journeys and during tournaments we often stayed overnight in the car or in tents."
When Basilashvili was 12 his father took him to live in the United States to further his career because opportunities in Georgia were limited. "My father made a lot of unbelievably good decisions at different moments in my career and one of them was to go to practise in Florida and play at the Orange Bowl and the Eddie Herr tournaments every year," he said.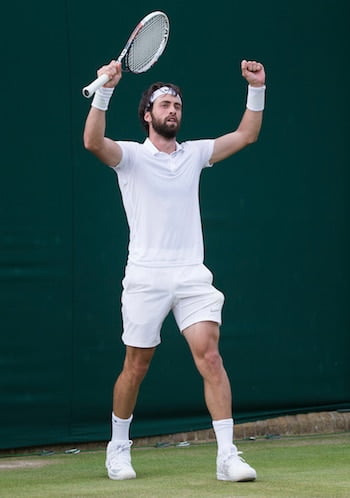 "My father helped me out a lot when I was in the US, though I had moments when I was totally alone for maybe two months. It was difficult sometimes, but it made me really independent from a young age."
At 15 Basilashvili switched to the Gorin Tennis Academy in Sacramento and at 18 he returned to Georgia, only to uproot again and move to an academy in Turkey run by an Australian coach, Gavin Hopper. For the last five years Nikoloz Basilashvili has been back in Tbilisi, where he lives with his wife and three-year-old son, but he has to travel to Germany to work with his coach, Jan de Witt.
"Tennis in Georgia is really struggling," Basilashvili said. "The situation is really bad. There are not many good players coming up. Young players have very little chance of improving unless they move away.
"We have a couple of good tennis clubs in Tbilisi. One with hard courts is owned by the Georgian tennis federation. For good juniors it's free to practise there, but we don't have so many players and the tennis system in Georgia is not really at a great level at the moment. Outside of Tbilisi there are only one or two tennis clubs in Georgia. It can be really difficult in the winter. We only have five or six indoor courts in Tbilisi."
Football, rugby, basketball and sports that require significant strength, like weightlifting, boxing and wrestling, are all bigger than tennis in Georgia. "Maybe tennis is growing now because people have seen my results and they want to play," Basilashvili said. "There has been more TV coverage recently. A couple of TV companies bought the rights to show my matches. At the US Open last year I got a lot of messages from people back home who had been watching my matches on TV."
As the stature of Nikoloz Basilashvili has risen, there have been tournaments around the world where expatriate Georgians have come to watch him play. He has also discovered Georgian restaurants in Hamburg and New York where he can enjoy specialities like khinkali, a dumpling made with meat and spices. "Georgian food is very good," Basilashvili said. "We have a lot of national dishes."
Apart from the occasional Davis Cup tie, the last time Basilashvili competed in his home country was when he won a Futures event in Tbilisi seven years ago. If he continues his climb up the world rankings it could be a good while before he plays in a tournament in his homeland again.
GEORGIA
Population: 4.3 million
Land mass: 69,700 sq km (26,911 sq miles)
Capital: Tbilisi (population 1.1 million)
Major religion: Christianity
Davis Cup record: Alex Metreveli, who was born in Georgia, is the leading Soviet Union player of all time but never represented the country of his birth, which started competing as an independent nation in 1994. Georgia currently play in Europe/Africa Zone Group Two, having been promoted from Group Three in 2015. They competed in Group One in 2007 and 2008. Irakli Ushangishvili holds the record for most singles wins, while Irakli Labadze has the most doubles wins
Fed Cup record: Until 1994 players from Georgia represented the Soviet Union. Georgia have never reached the World Group but have often played in Europe/Africa Zone Group One. Georgia played in that group in Bath in February but lost all four of their ties. Margalita Chakhnashvili-Ranzinger, who represented Georgia from 1998 to 2013, holds most of the records for numbers of ties played and matches won
To read every issue ever published of the world's best tennis magazine, tennishead, visit our 'Magazine Archive' and you can buy a copy of the latest issue here.To win incredible tennis prizes for free, enter our latest 'Competitions'. For all the breaking tennis news and exclusive player interviews, visit our 'News' section. For the latest racket, ball, shoe and clothing buyers guides plus video play tests, visit our 'Gear' section