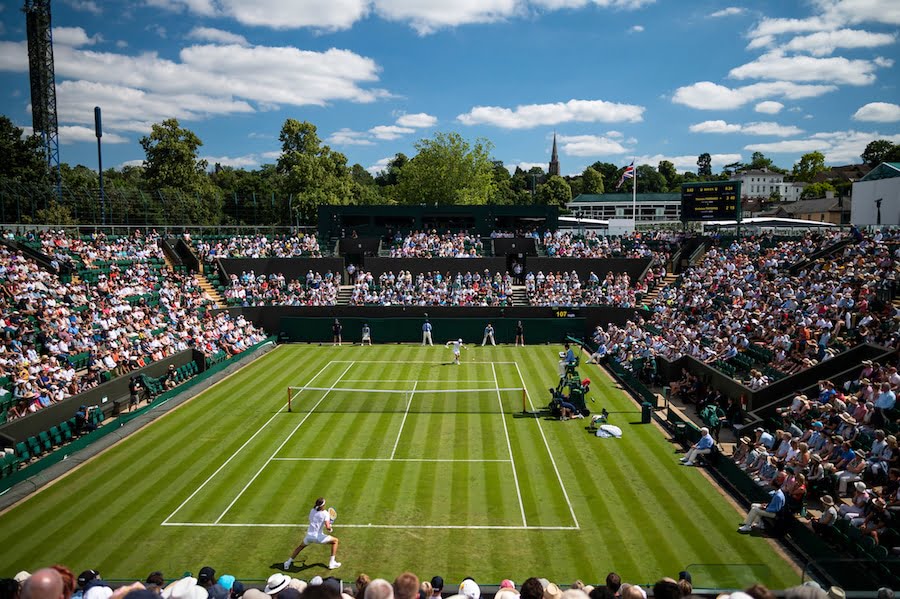 Is Wimbledon 2019 the slowest ever?
The Wimbledon 2019 hierarchy will never discuss any changes they've made to the courts or the balls but there is growing evidence that this year's Wimbledon is the slowest in terms of playing conditions that we've ever witnessed.
Right from the start of Day 1 at Wimbledon 2019 various well respected commentators, analysts and ex-players have been commenting on how slow they think the conditions are this year and there is plenty of evidence to suggest they are right.
When someone talks about 'slow play' in tennis the are usually referring to the speed of the ball after it bounces. There are many factors that can influence this but the reason it's so important is that a slow speed after the bounce will give players more time to prepare for their shots. This generally favours those players that like to have long rallies and hit with lots of topspin, in other words the clay court specialists rather than the 'boom boom' big servers and volleyers.
So when you have ex-players and top coaches like Mark Petchey and Paul McNamee saying they think its' the slowest ever' then you should sit up and take notice.
But is there any evidence that this is the case this year?
Firstly, the hot weather coming into the Wimbledon 2019 has meant that the natural grass courts are drier and harder than normal. This means the ball will bounce higher and will skid less than it would on lush green grass. A high bounce means a slower ball.
Secondly, when you analyse the 16 players that have made it through to the 4th round of the men's singles this year you will find a large number of players that generally play from the back of the court and have more experience and success on clay courts. Out of the last 16 you could arguably say that the following prefer slow courts:
Goffin, Verdasco, Pella, Bautista Agut, Berrettini, Sousa, Nadal.
That's 7 players out of 16 which is nearly half. Last year the same list would have included just 2 players in Nadal and Simon.
And look at the players that have already lost on the grass who you would have expected to do better if the grass was fast, such as Kevin Anderson, John Isner, Grigor Dimitrov, Gael Monfils, Ivo Karlovic, Karon Khachanov, Feliciano Lopez, Nick Kyrgios.
In fact, many of the players themselves have been openly commenting on how slow the conditions are:
"Everyone thinks it's how big your serve is and coming to net; it's really the opposite. It's returners and movers who win on grass. This is definitely the slowest Slam, by far. These courts are so slow right now it's crazy." Denis Kudla

"From the first years I have played here, I think it's made that gradual decline in speed of the court," Milos Raonic said. "And I don't think it plays any faster than any of the other Slams that's for sure. I haven't played on the main courts but I think because they allow players to practice on the side courts. They keep the grass a bit longer and it's softer, so obviously that's going to slow down a ball in its own right. From the little I understand, it's a grass that's meant to grow sort of as an 'x' shape so that it goes against the ball coming at it. It doesn't sort of bend that way. That's supposed to slow it down, as well."
Thirdly, are the balls getting slower as well?
One obvious way of slowing down the speed of a tennis ball is to make it either bigger or heavier or both. Again, Wimbledon would never comment on the size of the tennis balls they use but plenty of anecdotal evidence says they may be getting bigger thus adding to the slowness of the game. Here's an example of a Tweeted conversation between some influential tennis commentators on the size of the ball at Wimbledon: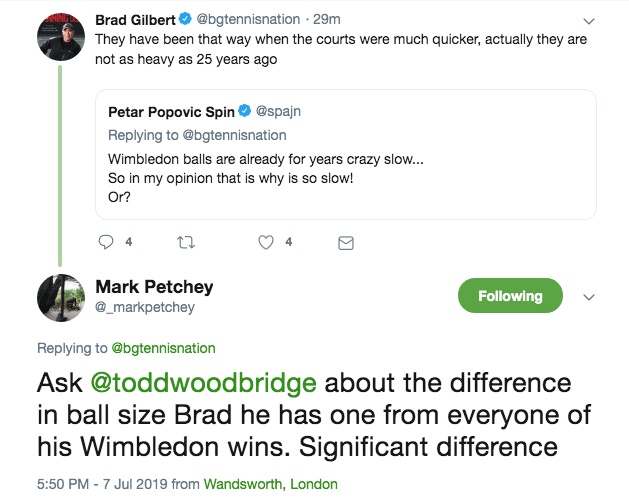 We don't believe anyone is saying there is anything wrong with the grass and conditions being slow but they are just commenting that all the factors seem to point to it be it being very different to previous years.
Enjoy Wimbledon even more with our exclusive, 164 page, 'Guide to Wimbledon 2019'
To find out how to get tickets for Wimbledon this year read our 9 point guide here
For all the latest Wimbledon news before, during and after the tournament make sure you bookmark our 'Wimbledon News' section here
If you can't visit the tournament then do the next best thing and read our guide on how to watch Wimbledon on television
To read more amazing articles like this you can explore Tennishead magazine here or you can subscribe for free to our email newsletter