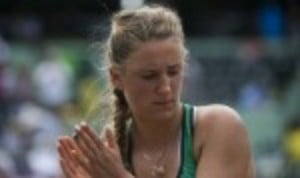 Is Azarenka back to her best?
Originally published on 30/03/16 00:00
Azarenka was the world No.2 and the biggest threat to Serena Williams' dominance of the WTA Tour before a series of foot injuries interrupted her career.
She regained form and fitness in May last year, 15 months after her initial injury, and then suffered another setback when further fitness worries forced her to end her 2015 season early by retiring from a match with Johanna Konta at the Wuhan Open.
However, Azarenka worked hard in the off-season to ensure she was ready for 2016, and it has paid off, as her impressive start to the year, culminating in her straight-sets victory over the world No.1 in the Indian Wells final, indicates she is almost back to her best.
Click here to see our Victoria Azarenka gallery
The two-time Australian Open champion has now beaten Serena in four tour finals, and is the only current top ten player to have beaten her more than once at this stage of an event. It is a feat that seems even more impressive when you consider that only one other top ten player – Angelique Kerber – has beaten the American in one final.
Following her triumph in the Californian desert, she is on course to complete a rare double by winning the title in Miami too, following in the footsteps of Steffi Graf in 1994 and 1996 and Kim Clijsters in 2005.
Azarenka could face a tougher path to the final than in Indian Wells though, as Angelique Kerber, Madison Keys and Johanna Konta all remain in her half of the draw.
The ferocity and consistency of her returns is one of her greatest strengths because it means that no server, not even Williams, has an easy time on serve against her. Against particularly weak servers, she stands inside the baseline for both first and second serves and hammers the ball back at her opponent or into an open part of the court for a winner. In this way, she is arguably the WTA's answer to Novak Djokovic.
Azarenka constructs points well and moves her opponents around the court with powerful, accurate groundstrokes. Since her return from injury, she has seemed more focused on net play than before. After losing to Kerber in the Australian Open quarter-final, she acknowledged that she has "to be able to come in more".
She admits to having a perfectionist side, and said after the semi-final defeat in Melbourne: "Every aspect of my game I have to work on. I have to work on my serve. I have to work on my returns. Everything needs to be sharper still. That's the motivation behind it. I need to get better."
While Azarenka now looks much sharper and her returns are looking very good once again, her serve can still be exploited by her opponents. Kerber demonstrated this particularly well in Melbourne, to the extent that Azarenka won 54% of points on her first serve and only won 38% of points on her second serve in that match.
She is one of the best returners the tour has ever seen and hits powerful and accurate groundstrokes with both her forehand and backhand. She is also a fierce, determined competitor, as Serena alluded to when she said after their pulsating three-setter at Wimbledon in 2015: "Me and Victoria always have really wonderful matches. She's always able to push it to three sets. Whenever I see her name, I get excited because I feel like there's going to be an opportunity to see how well I'm doing."