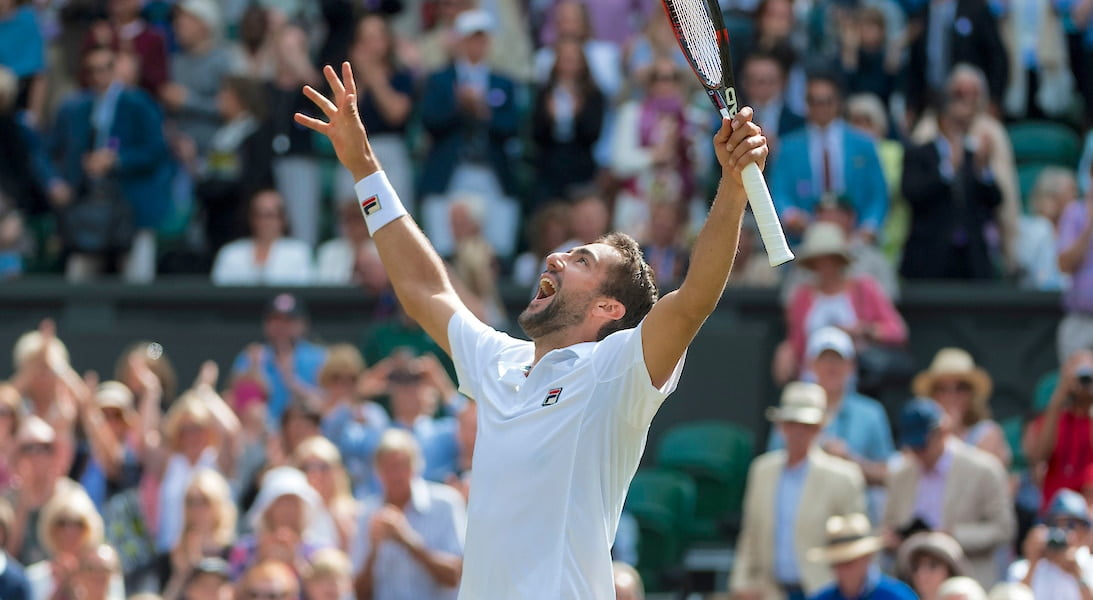 Inside the mind of Marin Cilic: "I had a psychological meltdown"
Marin Cilic admits that physical pain drove him into a 'psychological meltdown' in last year's Wimbledon final but now he looks back on the 2017 tournament with only positive thoughts
Just a few hours earlier the Centre Court crowd – not to mention television viewers around the world – had seen Marin Cilic in tears, his dream of winning Wimbledon dashed by a painful blister that had ended his chances of beating Roger Federer. However, not even that experience was going to ruin his evening.
"We had a celebration that night," Cilic told tennishead as he looked back on the dramatic end to the best run of his Wimbledon career last summer. "We rented an Italian restaurant in Fulham. I had about 40 or 45 people there: my family, my team, friends from Croatia. It was still a great achievement to have got to the final and we were always going to have that celebration, whether I won or lost. It was a great evening."
On the following morning, nevertheless, the emotional pain was back. Cilic recalled: "I was proud of how I had played the whole grass-court season, but I also wondered: 'Will I ever get this chance again in my life?' I had been in such good form and was playing such great tennis. I thought about what I might have done better, what I would need to do in the future. A week later I think I was still quite drained mentally and psychologically down. It was hard to recover in a positive way."
Some players can build on a loss in a Wimbledon final – witness what Rafael Nadal and Andy Murray went on to achieve – but for others it can be a peak which they might not scale again. Tomas Berdych and Milos Raonic, for example, have yet to feature in a Grand Slam final after losing in recent Wimbledon finals.
Cilic, nevertheless, demonstrated in the best possible fashion at the start of this year that he had put any negative thoughts behind him. By reaching the final of the Australian Open – in which he lost again to Federer but took the Swiss to five demanding sets – Cilic underlined his reputation as a man for the big occasion. The only other current men who have played in three or more Grand Slam singles finals are the "Big Five" – Federer, Nadal, Murray, Novak Djokovic and Stan Wawrinka.
Although it was the 2014 US Open that brought him his only Grand Slam title, Cilic reckons he has never played better than he did at the All England Club last summer. "In my last three matches at the US Open in 2014 I played out of my mind, but at Wimbledon I played great tennis from the first round all the way through to the final," he said.
Cilic loves playing on grass. He felt comfortable from the moment he played his very first matches on the surface, when he won the title at the Roehampton junior event in 2005. Unlike many of his rivals, he has little trouble adjusting to grass after playing on clay for two months.
"It feels good straight away," he said. "When I start to hit the ball on grass again it comes off the racket so nicely. I immediately hit it smoothly and cleanly. There's an instant connection. It feels good, especially after the clay, when you've been sliding a lot, running left and right. It's completely different. For me playing on grass is what Rafa must feel like when he starts playing on clay."
In recent years Cilic has played two grass-court tournaments in the build-up to Wimbledon. Last year he reached the semi-finals at 's-Hertogenbosch and was runner-up to Feliciano Lopez at Queen's. "The movement on grass is a bit different," he said. "It makes a difference if you've played a few matches on grass, especially if you're playing someone who's already in good form on the surface."
At Wimbledon Cilic won his first four matches in straight sets, beat Gilles Muller in five in the quarter-finals and Sam Querrey in four in the semi-finals. By then, however, a blister on his left foot was starting to cause serious trouble.
"On the morning of the final I saw the tournament doctor and he tried to numb the pain before my practice with an injection, but it didn't work," Cilic said. "The doctor said: 'OK, we'll do another injection half an hour before the match.' So I went to his room at 1.30 and I got another injection. But when I started the warm-up before we went on court I felt the pain again. I just said to my team: 'I don't know what to say. Just wish me luck, guys.'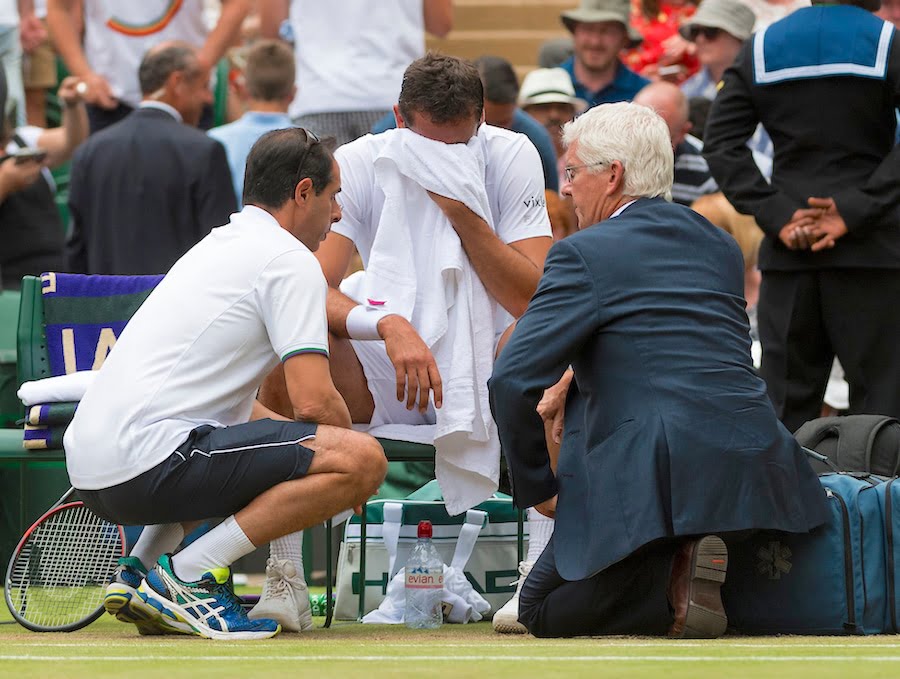 "When I went on the court it was hurting with every small movement. It hurt immediately. Any change of direction was difficult. It hurt most of all when I made my returns. I had to react quickly, but I couldn't push off my foot. The balls were just passing me by most of the time."
Midway through the second set Cilic sobbed into his towel at a changeover, fully aware that the eyes of the sporting world were on him. "It was the Wimbledon final and I had felt so good coming into it," he recalled. "I had felt confident that if I played well I could win. To have something like that was a meltdown psychologically. There was nothing I could do. I even thought: 'Should I retire?' But this was the Wimbledon final, so I wanted to fight as hard as I could."
Cilic insisted, nevertheless, that in the weeks that followed he did not dwell on the defeat too long. "I soon told myself to think about things in an objective way," he said. "I had played great tennis at Wimbledon and been in great form. I'd made the final. Even if I hadn't had the problem with my foot and had still lost the final, I think I would still have felt great. I told myself that I had to think very positively about the future after the way that I had played. I didn't want to be putting myself down or not competing well in my next tournaments just because of that final."
After Wimbledon an adductor injury kept Cilic off the court until the US Open, where he lost in the third round to Diego Schwartzman. Although he reached the latter stages of tournaments in Tokyo, Shanghai, Basle and Paris, his 2017 campaign fizzled out at the O2 Arena, where he lost all three of his round-robin matches at the Nitto ATP Finals.
At Christmas he sat down to watch – for the only time – a re-run of the Wimbledon final. "I watched the whole match, but it was difficult to watch," he admitted. "It wasn't easy – especially when you know you lost."
Cilic keeps in his bedroom a copy of an interview he gave when he was 13. The headline read: "One day I hope to be at Wimbledon". Sixteen years later, as he prepares for his 12th successive appearance at the All England Club, the Croatian is full of similar hope and optimism. "I'll go to Wimbledon this summer in a very positive mood," he said. "I won't be looking back on the past."
For more exclusive interviews with the biggest stars get your copy of Tennishead magazine here