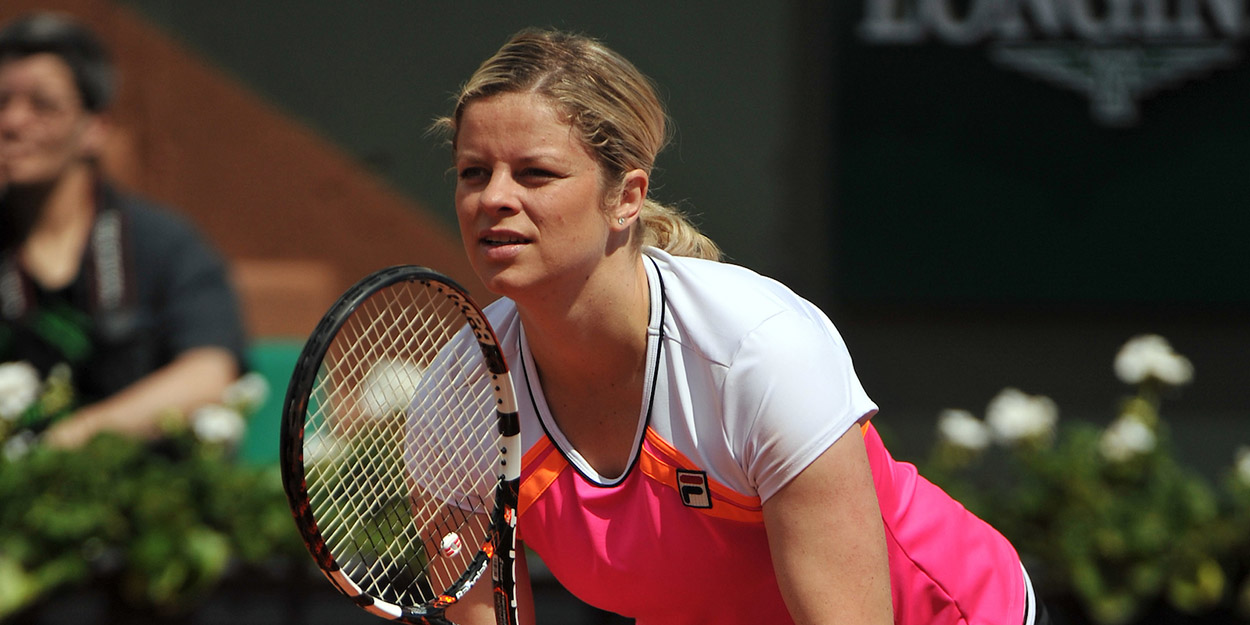 "I'm sure Kim Clijsters would have hoped to be fitter" Renowned commentator explains why more women than men make comebacks
Why do players like Kim Clijsters make comebacks? There are probably some who do it because for much of their teenage and adult years they had grown accustomed to the structure that a career in tennis gave their lives.
When they retire and find out that "real life" isn't as exciting or as easy as they might have hoped, they return to what they know best.
And then there is Kim Clijsters. The former world No 1, who is one of the warmest people you could wish to meet in tennis, clearly leads a very full life away from the court. With her husband and three school-age children, not to mention her tennis academy in her home town of Bree in Belgium, you would hardly have thought that she had room in her life for the training and travel involved in playing at the highest level.
In February, nevertheless, there she was, making her comeback in Dubai, playing in one of the last matches I watched live before the coronavirus shutdown. Seven and a half years after her previous competitive appearance, the first match of her comeback was against Garbine Muguruza, the world No 16. Muguruza won 6-2 7-6(6), but I was mesmerised by Clijsters' performance. The match was entertaining and competitive and the second set in particular was very intense.
Clijsters, whose footwork has always been superb, moved as beautifully as ever. She also has wonderfully natural pace and power, which you appreciate when you hear the ball "pop" off her strings. She's the sort of player who makes the game looks so easy that you want to go out and hit the ball yourself.
All those qualities were in evidence in that first match of her comeback. The one area where she struggled was her serve: her 10 double faults were a clear indication of her lack of matches. I'm sure she would also have hoped to be fitter, which is something that would no doubt have come had she played more. As it was she played only one more match before the shutdown, losing 6-3 7-5 to Jo Konta in Monterrey.
Clijsters had clearly been watching a lot of tennis before making her decision to return. I was with her in the commentary box at Wimbledon last summer. She must have been sitting there and thinking: "I could still give these players a match."
I suspect that the reason very few leading men make comebacks these days is because they feel they have no chance of getting back to the top. The women's game is different. Look at the statistics. Since the 2005 Australian Open, only seven different men have won Grand Slam singles titles (Roger Federer, Rafael Nadal, Novak Djokovic, Andy Murray, Stan Wawrinka and Juan Martin del Potro). Yet over the same period there have been 25 different female champions, despite the domination of Serena Williams. Watching someone like Jelena Ostapenko win at Roland Garros in 2017 might have made Clijsters think: "If she can be this successful then why can't I?"
Clijsters was never an in-your-face opponent, but she has always had great determination and been ruthlessly competitive. She is very strong mentally. The two matches she has played this year also demonstrated her unshakeable self-belief. You wouldn't put yourself in that position if you didn't believe in your ability.
I see similarities between her comeback and Andy Murray's, even though their circumstances are clearly very different. I can't imagine that either of them are coming back just to make up the numbers. I'm sure they really believe they can achieve things.
Like Clijsters, Martina Hingis made two comebacks. She was particularly canny third time around: having always been a great doubles player, she saw the chance to enjoy more success at the highest level. In the space of three years, from 2015 to 2017, she won 10 more Grand Slam titles, four in women's doubles and six in mixed. She has since gone on to have a family, so she really has had everything.
Marion Bartoli meanwhile never went through with her planned comeback, but I imagine that she was another who had watched a lot of tennis since her retirement and thought she could do better than many of the players she had been analysing in the commentary box.
Some players simply need time away from the game before pressing on with their careers. Look what a break from tennis did for Ashleigh Barty, who came back to become world No 1. Sometimes you just need time away from competitive tennis to realise who you are and what your priorities are.
As for older players, it can be the decision to retire that is the hardest to take. I was reminded of this in Dubai when I talked to a player in her thirties who was competing there. She told me she was considering retirement but was finding the decision difficult. I was rather taken aback when she told me that she admired the way I had transitioned to a "normal life" after finishing my playing career. "People don't realise how scary retirement can be for a player," she said. "I know many players who just don't know how to get out of tennis."
I was only 21 when I retired. For a brief moment I considered a comeback. I had been hitting the ball well in practice and thought I would like to test myself again in competition. I entered a tournament in Telford, went 5-0 up in my first match – and went on to lose it. My comeback (if you can call it as much) ended there and then.
For details of Annabel Croft's Holiday programme, visit www.annabelcroftholidays.com or email [email protected]