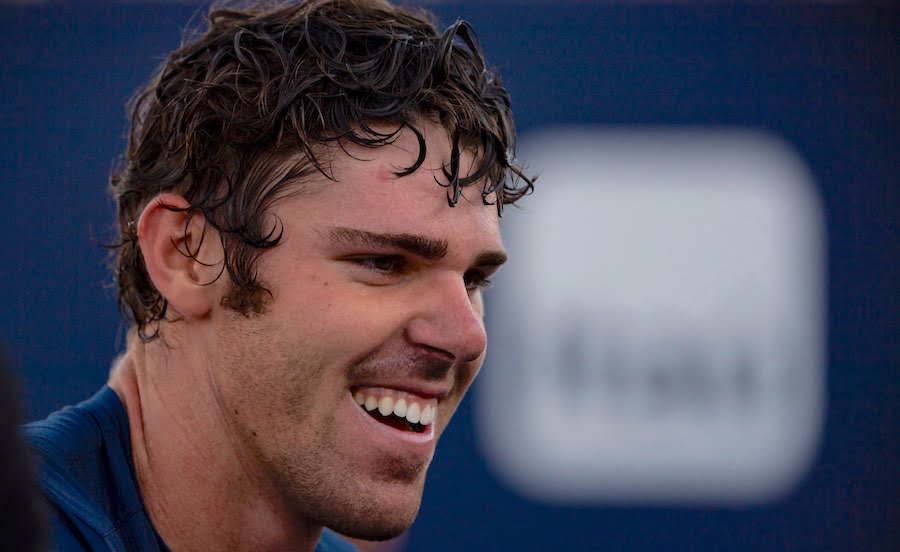 "I wish I played basketball. Those guys have a life!" Tennis giant Reilly Opelka opens up in exclusive interview
At 6ft 11in Reilly Opelka towers over most of his rivals, but he has had to overcome plenty of obstacles to play at the highest level
Reilly Opelka is making big strides in tennis but the 21-year-old American has a confession to make. He would rather have been a basketball player. "Yes, I wish I had played basketball," Opelka admits. "One hundred per cent. Those guys have a life. The league minimum is five million [dollars] a year. And you get to stay in the States, fly private, big planes. It's the life."
Reilly Opelka, who shares a love of basketball with Australia's Nick Kyrgios, stands 6ft 11in tall, which might make him physically closer to LeBron James or Kobe Bryant than to Roger Federer or Rafael Nadal, but that has not stopped the Chicago Bulls fan making his mark on tennis. Having made his Grand Slam breakthrough at the Australian Open in January by finding a way past John Isner in a real-life battle of the giants, Opelka went on to beat his fellow American again en route to his first ATP title in New York in February.
Given his height, it is no surprise that Opelka's serve is one of his biggest weapons. He has been averaging more than 20 aces per match and hit 83 in his two matches at the start of the year against Isner. "I practise my serve every day, but I'm not serving baskets," Opelka said. "When I'm at home I spend a lot more time on other things. I spend 20 to 30 minutes a day serving as an absolute max."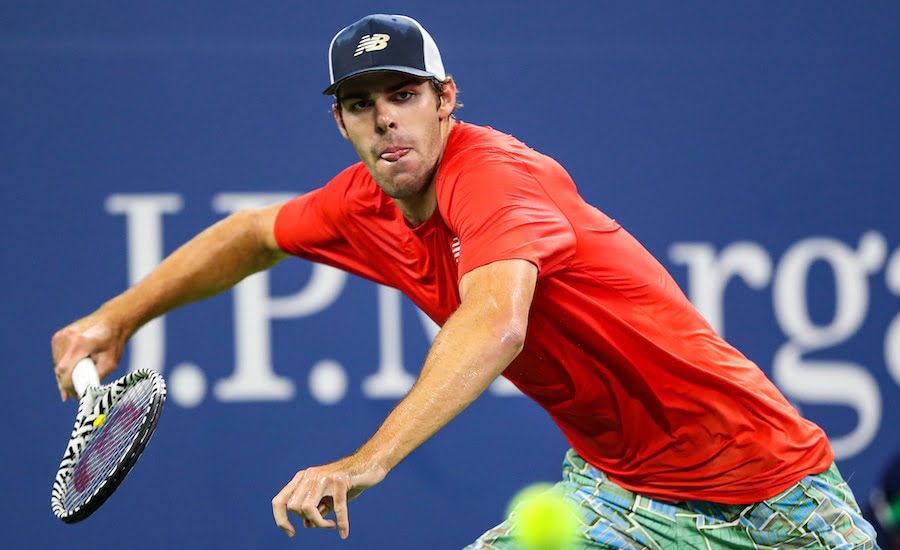 Being so tall is not without its drawbacks. Opelka, who wears size 15 shoes, has had to deal with foot and back injuries. "The foot issue started in 2015," he said. "I was 6ft 11in already, but then I put on a lot of weight. It was just natural, maturing. I finished 2016 30lb heavier and I think that's where the foot problem started. With more weight my body had to adjust."
Finding comfortable beds in hotels and seats on airplanes is also a challenge. "The biggest issue is flying," he said. "Obviously I have to fly Business class, but once I'm in Europe or somewhere where I have a three-hour flight where they don't have full-on Business class, that's where I struggle. I've got off planes before with my back completely locked."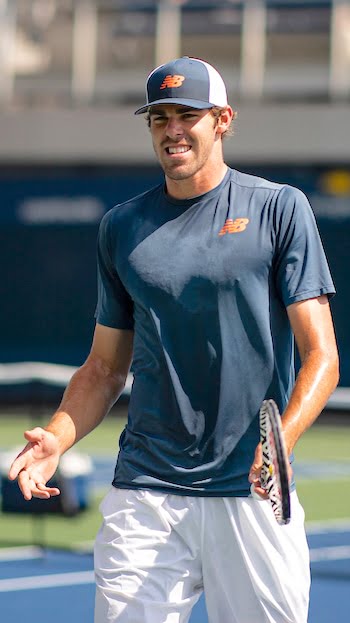 In his early days on the tour there were times when Reilly Opelka spent more flying to tournaments than he won in prize money. "The first year I went to Australia I qualified, so I didn't finish in the red there," he said. "The next year I paid eight or nine grand for my flights and lost in the first round of qualifying. You only make six grand losing in first round of qualies – and after taxes it's even less than that. But I regard flying Business as a must. If I didn't fly Business I'd definitely be in the red because I'd be too stiff to play."
Opelka's long-term potential had been clear when he won the Wimbledon boys' title in 2015, but as a senior he has had to earn his place at the top table. He broke into the world's top 100 for the first time last November after a year in which he reached five Challenger finals, winning three of them.
"They're not the nicest tournaments," Opelka said. "They're an absolute grind. You're playing in the middle of nowhere. I played a Challenger last year in Panama where after the first round they ran out of balls and switched to a different ball. There was no locker room. There were no showers at the courts and there was no air-conditioning. It was the most beat-up court you could find. I definitely paid my dues on the Challenger tour last year."
Opelka's 2018 season was also interrupted by glandular fever (or mono as Americans call it). The first signs came as he practised before the Wimbledon qualifying tournament. "I was feeling tired after just 15 minutes of practice," he recalled. "I'm usually a guy with a lot of energy. I like to do one long practice session and then I'm done for the day. And for me to be 15 minutes in and dying, something just wasn't right.
"I won one round [in Wimbledon qualifying] and after that I knew for sure that something wasn't right because I was just gassed. I could barely move the next day. Then I went home and played a Challenger at night in Chicago. I lost 6-4 6-2. I finished the match and was full body-cramping. I got blood drawn and had tests done. Sure enough, no surprise, it was mono."
Reilly Opelka thinks he had pushed his body too hard. "I'd had a pretty bad 2017, so in 2018 we spent a lot of time on the practice court and in the gym," he said. "I played a lot of matches in Challengers. I wasn't sleeping well and with all the travelling, all those things accumulated."
After the glandular fever diagnosis Opelka was told to take complete rest. "You don't want to get your heart rate up," he said. "Heat stress is not great, so you want to stay indoors. After 10 days of sleeping a lot and not working out I felt good, but that's where it gets dangerous. I had to be patient.
"I was lucky we caught it. A lot of guys don't get it caught. The danger for an athlete is that when you feel you're getting tired, you think the solution is: 'I've got to train more.' There have been some bad cases in tennis of guys never recovering from mono because they didn't identify it."
Opelka made his Grand Slam main-draw debut at the Australian Open in 2017 but, remarkably, has yet to play in his home Grand Slam event. Having fallen in qualifying in 2015, 2016, 2017 and 2018, he was looking forward to heading for the US Open this summer with a high enough ranking to ensure direct entry into the main draw.
The fact that the United States Tennis Association has never given him a wild card into the tournament – despite the fact that he was ranked in the world's top 200 in both 2017 and 2018 – appears to rankle Reilly Opelka, though he refused to comment on his dealings with his national governing body.
"Luckily I don't need a wild card this year," he said. "I've always been a big advocate of giving it to the younger guys. I've been ranked higher than guys and seven years younger than guys who have got cards over me.
"This has nothing to do with me. I just think the general concept is completely wrong. I think moving forward you should give the youth their shot. If I'm 27 and not in the main draw I wouldn't ask for a wild card because I wouldn't deserve it."
Opelka has often found his best form in the United States. "It's just nice having my family and friends around," he said. "For example in New York the tournament was actually held in Long Island, but I was in the city every night, enjoying good food. It was also Fashion Week, which is something that appeals to me, so I was finishing my matches and then going into the city. I tend to play my best when I have a good life off the court at the tournaments."
Does he like American crowds? "Yeah, somewhat," Opelka replied rather cagily. "When they choose to root for the American that day, which is a 50-50."
Opelka names the clay-court event at Houston as his favourite tournament, despite the fact that he has never won a main-draw match there. Grass is not his favourite surface, which might come as a surprise given that he was a junior Wimbledon champion.
"Juniors is different because it's everyone's first time playing on grass," he said. "No one really knows what to expect. I just find it harder to move on grass and the ball doesn't bounce so high. Don't get me wrong, I definitely enjoy it, but I think my best surfaces are hard and clay."
To read every issue ever published of the world's best tennis magazine, tennishead, visit our 'Magazine Archive' and you can buy a copy of the latest issue here.To win incredible tennis prizes for free, enter our latest 'Competitions'. For all the breaking tennis news and exclusive player interviews, visit our 'News' section. For the latest racket, ball, shoe and clothing buyers guides plus video play tests, visit our 'Gear' section