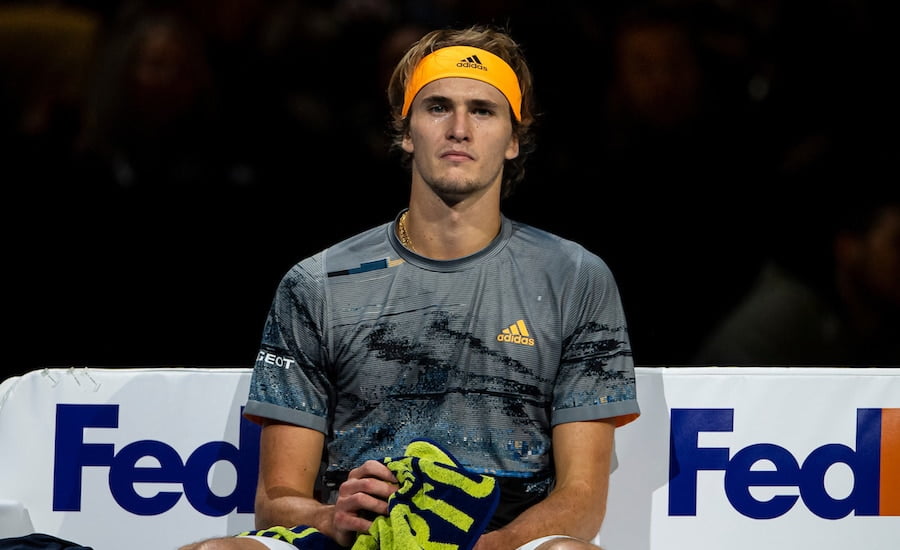 "I wasn't happy at all the whole year" Alexander Zverev looks ahead after 'annus horribilis'
Alexander Zverev sounds like he wants to forget most of what happened to him in 2019 but his performances in the past few weeks are giving him hope for 2020 and perhaps a first Grand Slam title…
Alexander Zverev considers ending the year ranked no.7 in the world as an "incredible" accomplishment considering everything he had to dealt with both on the tennis court and off it. His personal and business difficulties have been well documented with a disagreement with his ex-manager even ending up in court but now the young German has some hope to take into next year thanks to signs of a recovery in his form in the past few tournaments.
Zverev was speaking after his ATP Finals semi-final loss to Dominic Thiem when he was asked if he was happy with his year?
He said, "Yeah, talking about happy, I wasn't happy at all the whole year. Outside the court, on the court. So to finish the year No. 7 in the world, for me, with all the things that happened to me and with all the things that were happening is actually quite incredible. I didn't think I would. In that point, you can see it in a very positive way.
"And the other point, of course, I was very disappointing, because I wanted to win more tournaments. I wanted to play better at the big tournaments.
"Actually, after the US Open I started playing much, much better. I hope I can take that into next season, and we will see.
"I think next year will bring a new Grand Slam champion. We'll see who that will be, because I think the young guys are playing incredible tennis.
"You know, it can be Daniil, it can be Stefanos, it can be Dominic. I'm in the mix, as well, I hope. We'll see what next year brings. But I think for the young guys, it's going to be an exciting year."
Alexander Zverev will not be playing in the Davis Cup this week as he disagrees with the changes that have been made to the format. He will instead take part in a number of exhibition matches in South America alongside roger Federer.
Look ahead to the rest of the tennis year with our guides to every tournament on the ATP Tour and WTA Tour. Can't visit the tournaments you love? Read our guide on how to watch all the ATP Tour matches on TV. For more news, explore Tennishead magazine here or subscribe to our free email newsletter here.