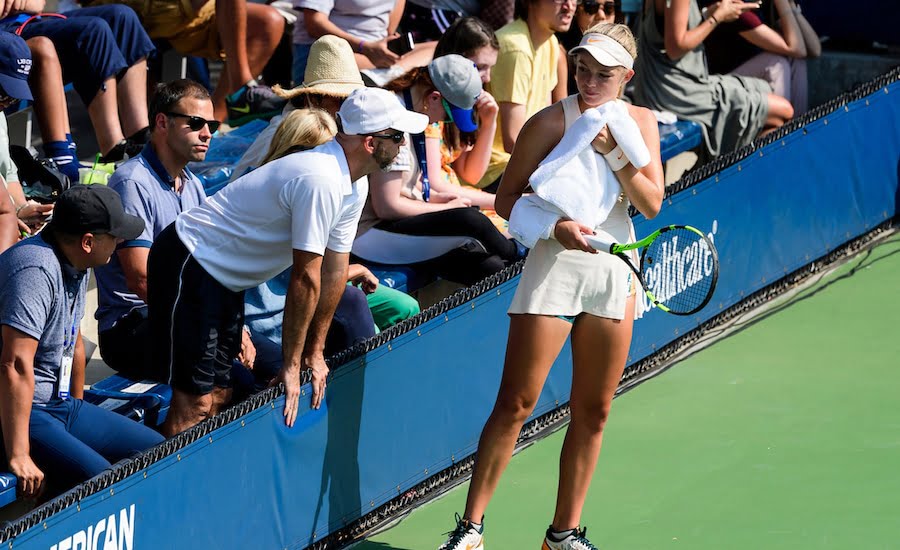 "I was shocked" Annabel Croft exclusively reveals concerns about on-court coaching
Annabel Croft says that, "Youngsters need to work out how to win matches on their own" as she writes exclusively for tennishead on the risks of letting coaches interfere with a tennis match
At last year's US Open I was quite shocked by some of what I saw in junior matches, says Annabel Croft writing her regular column for tennishead. Since 2017, players at the US Open in the junior and qualifying competitions have been allowed to consult with their coaches during matches. The coaches sit by the side of the court and the players are allowed to come over to talk to them.
What shocked me was how frequently some of the juniors would interact with their entourages.   Some would look across to their coach after each point and would go over to talk to them at every opportunity.
I'm not necessarily opposed to on-court coaching, but what I saw in New York last summer made me think that this cannot be good for the vast majority of young players. A key part of learning how to play tennis is acquiring the skills to solve problems on your own, yet some of these players were totally reliant on their coaches.
When I was a junior I never had any dialogue with my coach during a match. Instead there were times when I would sit down with my coach afterwards, go through what had happened on court and try to learn lessons for the future. That is surely a better way to learn than repeatedly being told what to do during a match.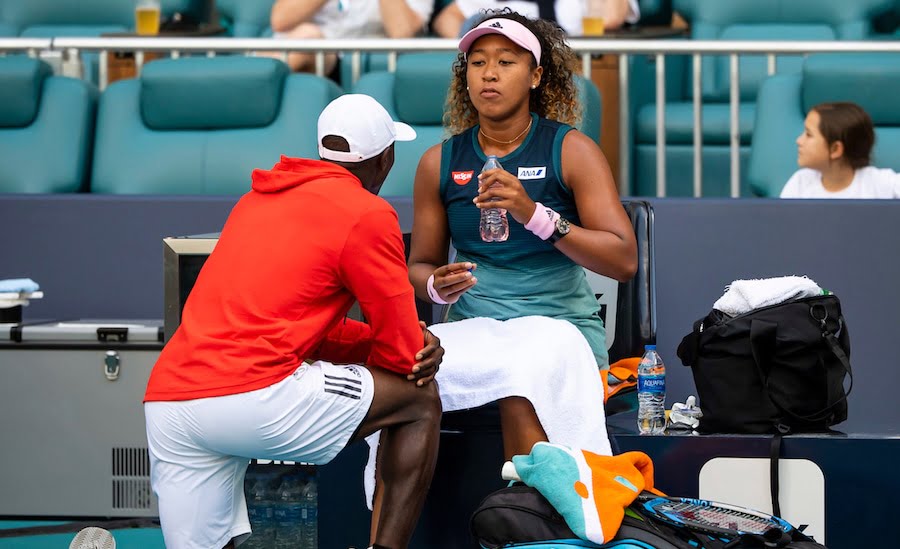 Besides, coaching a young player is about more than just teaching them how to play the game. I remember John-Laffnie de Jager, who used to coach Heather Watson, saying that in teaching tennis, you are also providing young people with life skills.
Sport is about dealing with challenges and hardships, solving problems, learning both how to win and how to cope with defeat. Those are also lessons you have to learn in life, which is why I think it is so much better if young players can confront these situations on their own rather than with a coach constantly telling them what to do.
The All England Club is firmly against on-court coaching, in the belief that tennis is a sport for individuals. I can totally understand and sympathise with Wimbledon's viewpoint, though I have to say that on-court coaching, as allowed on the women's tour, can greatly enhance the experience for television viewers.
As a TV commentator I am always interested to hear what coaches are saying when they come on court. You can learn a lot from eavesdropping on those conversations. It's fascinating to see if the player can then carry out the coach's instructions or whether the coach's intervention has little effect. Sometimes, particularly when the player and coach are in clear disagreement, it can also add to the entertainment value for TV viewers.
In any sport it's always informative to hear what's going on out on the field of play. When you're watching a rugby match, for example, it can be very illuminating to hear what the referee is saying to the players.
Patrick Mouratoglou, Serena Williams' coach, has argued that when coaches come on court they should be obliged to converse with their player in English, for the benefit of television viewers. Having an on-court conversation in your native language does not necessarily guarantee that it will remain between yourselves: I have heard of cases where a player's friend, watching on television and understanding the language, gets a message back to her friend's coach after hearing what her opponent's coach has been saying on court.
One problem with not allowing on-court coaching is that it can be hard on occasions to know where you draw the line between encouragement and actual coaching.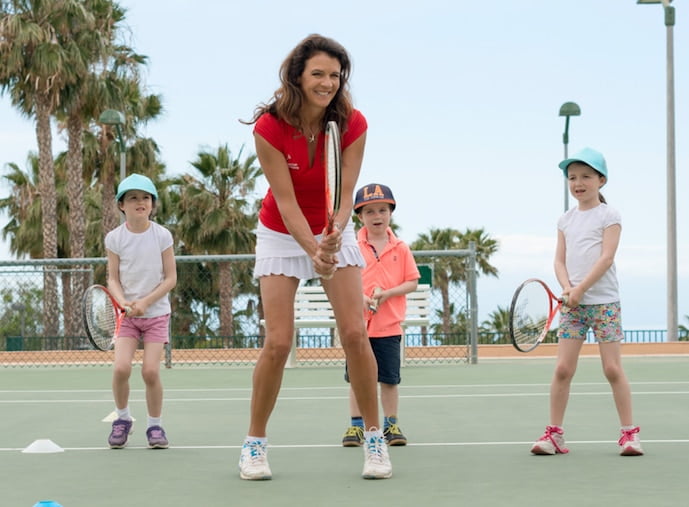 I always remember the very last match of my professional career, at a tournament in Oklahoma. I was there with a British colleague and friend, Sara Gomer, who was playing in the same event. Sara was watching my match and was presumably clapping and cheering. To my astonishment, the umpire accused me of being coached by her during the match. Sara thought it was absolutely laughable and I was so aggrieved and upset about it that it threw me out of my stride and I lost the match.
It's also sometimes clear that when entourages shout encouragement to their player they are trying to unnerve the opponent. If their player is down the other end of the court, they are shouting to their own player in the knowledge that it might wind up the opponent, who is much closer to them and will hear everything they say. It's something that I've witnessed on many occasions.
One of the problems for tennis – and particularly for women's tennis – is that different rules apply at different tournaments. On the women's tour players are allowed to call their coach on to the court once during each set. However, no on-court coaching is allowed at the Grand Slam events, except in qualifying at the US Open. That can be confusing for everyone.
In the end, this all comes down to individuals. Some players clearly benefit from the reassurance offered by the presence of their coach, while others are happy to work things out on their own.
There have been times in the past, for example, when Johanna Konta used to look across to her coach regularly during a match. This year, however, I've noticed a change. Dimitri Zavialoff, who started coaching her at the end of last season, believes in players problem-solving on their own. For the most part that has worked extremely well for Konta, who has turned many matches around this year after losing the first set.
And then, of course, there's Roger Federer. I'm not sure I can ever remember the great man looking up at his entourage during a match. And he's not had a bad career, has he?
Annabel Croft is a former British No.1 tennis player and now works as a tennis commentator for Amazon and the BBC as well as running a luxurious tennis holiday business in sun drenched Portugal. For details of Annabel Croft 's Holiday programme, visit www.annabelcroftholidays.com or email [email protected]
To read every issue ever published of the world's best tennis magazine, tennishead, visit our 'Magazine Archive' and you can buy a copy of the latest issue here.To win incredible tennis prizes for free, enter our latest 'Competitions'. For all the breaking tennis news and exclusive player interviews, visit our 'News' section. For the latest racket, ball, shoe and clothing buyers guides plus video play tests, visit our 'Gear' section