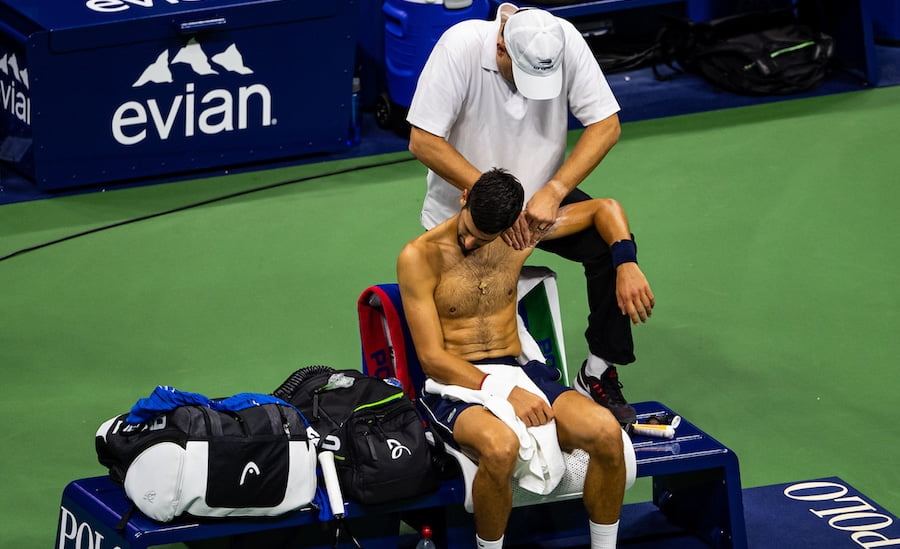 "I haven't had any pain in the last three, four weeks" Novak Djokovic delivers positive injury update
Novak Djokovic is pain free following a left shoulder injury that forced him to retire from the US Open
Novak Djokovic has revealed that the left shoulder injury that has plagued him for over 2 months is no longer a problem. The problem forced him to withdraw from the US Open during his fourth round clash with Stan Wawrinka. At the time there was some conjecture that he might have to undergo surgery but Djokovic quashed those rumours and returned to tournament play within a month at the Japan Open.
Now Djokovic is back to full fitness and aiming to win the Paris Masters.
Djokovic had just finished a rare practise session with Rafa Nadal when he was asked how his left shoulder felt.
Djokovic said, "Physically I'm feeling well. I haven't had any left shoulder pain or any major concerns physically in the last three, four weeks basically. So my preparation has been going well. And I'm just hoping I can kick off this tournament in best possible way."
Djokovic is the top seed at the Rolex Paris Masters this week but he knows he faces an uphill challenge if he is to hold onto his world No.1 ranking as Rafa Nadal isn't defending any points this week. Djokovic will need to win all his matches this week and at the ATP Finals in London but even then it might not be enough to end the year as the leading player for 2019.
Look ahead to the rest of 2019 with our guides to every tournament on the ATP Tour and the WTA Tour. If you can't visit the tournaments you love then do the next best thing and read our guide on how to watch all the ATP Tour matches on television in 2019. To read more amazing articles like this you can explore Tennishead magazine here or you can subscribe for free to our email newsletter here