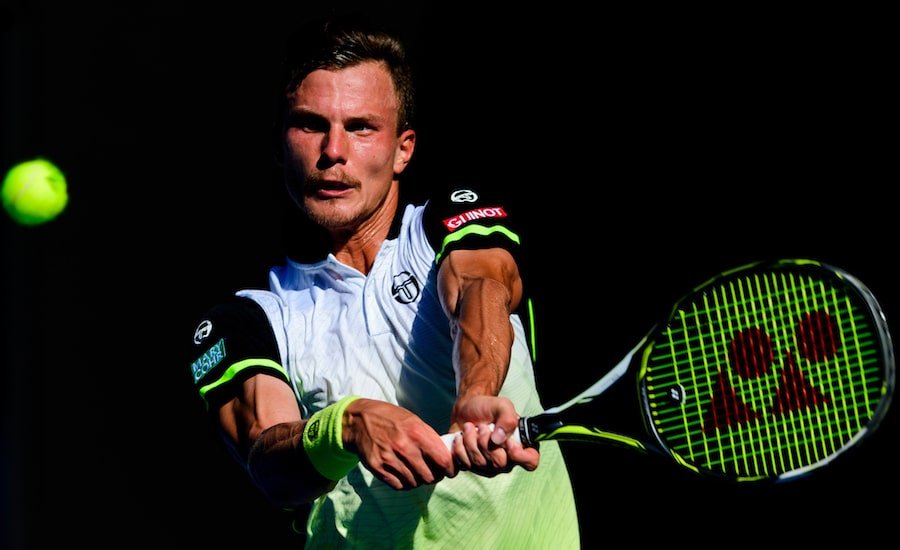 "I felt a lot of pressure" Marton Fucsovics exclusive interview as he reveals what is was like growing up in Hungary
Unless Timea Babos is playing at one of the combined men's and women's tournaments, Marton Fucsovics expects to be the only Hungarian almost wherever he plays. The 27-year-old right-hander has grown accustomed to being the sole Hungarian man ranked in the world's top 200.
Fucsovics is the only Hungarian to have won the boys' singles at Wimbledon – he beat the Australian Ben Mitchell in the 2010 final – and became the first player from his country to win an ATP title for 36 years when he triumphed in Geneva last year.
Hungary, nevertheless, has quite a pedigree in tennis. Indeed, the country provided the game's first Eastern European Grand Slam singles champion when Jozsef Asboth won at Roland Garros in 1947.
The son of a railway worker, Asboth might have made an even greater mark on his sport but for the Second World War and the Soviet Union's subsequent occupation of Hungary. Asboth had enjoyed Davis Cup success before the Second World War and was at his best on clay, but until 1954, when he was 36, his only appearance at Roland Garros had been in the year of his remarkable triumph. In winning the 1947 title in Paris he lost only one set: having dropped just five games to Tom Brown, the top seed, in the semi-finals, he beat South Africa's Eric Sturgess in the final.
Nineteen years later Istvan Gulyas became the second Hungarian to play in a Grand Slam singles final, also at Roland Garros. He might have been his country's second champion but for a remarkable piece of sportsmanship. Tony Roche had injured an ankle the day before he was due to face Gulyas in the 1954 final, but the Hungarian agreed to delay the match by a day to enable his opponent to recover. Roche, sustained by pain-killing injections, won the final 6-1 6-4 7-5. Between 1974 and 1982 Balazs Taroczy won 13 tournaments on the ATP tour but since then no Hungarian man had won a tour-level title until last year.
There have been more female Hungarian singles champions at tour level – among them Andrea Temesvari, Agnes Szavay, Melinda Czink, Greta Arn and Babos – but Zsuzsa Kormoczy is the only female Grand Slam singles champion from the country. Kormoczy won at Roland Garros in 1958, beating Britain's Shirley Bloomer in the final. Babos, nevertheless, has won two Grand Slam doubles titles and rose to world No 1 in doubles last year, the first Hungarian to top the rankings in any senior category.
"As a country we've been getting better since me and Timea Babos broke into the top 100," Fucsovics said. "Tennis is getting more popular in Hungary but we're still not there yet."
Fucsovics learned to play the sport in his home city of Nyiregyhazi, which lies 130 miles to the east of Budapest, the capital. "I was born there and brought up in Nyiregyhazi," he said. "I started playing tennis there when I was five. It was at a club with clay courts, the Nyiregyhazi Tenisz Club."
It should be no surprise that Hungarians have historically had their best results on clay. "Ninety-five per cent of the courts in Hungary are clay," said Fucsovics, whose title victory in Geneva last year was on the surface. "There are very few indoor courts in Hungary. I don't think there are any in the whole country outside of Budapest."
Nearly all the tennis courts in Hungary are in clubs rather than in public facilities, but Fucsovics said it was not an elitist sport. "You have to pay to play but you don't have to join a club to play," he said. "You can just pay the hourly rate."
Were there any Hungarian tennis players who were Fucsovics' idols when he was growing up? "The last top 100 Hungarian player was Attila Savolt. He was my coach for two and a half years. But my idols were Lleyton Hewitt and Roger Federer. I loved Hewitt because he was the biggest fighter on the court."
At 15 Fucsovics went to train in Germany for three years and then to France for three years – "In Hungary we didn't have the facilities, the coaches, the courts" – but he is now based in Budapest. "I used to practise at the federation but last year I moved to the Budai Tenisz Club because the indoor hard courts are better and the gym is bigger and better for me," he said. "There are a couple of good juniors there I can practise with."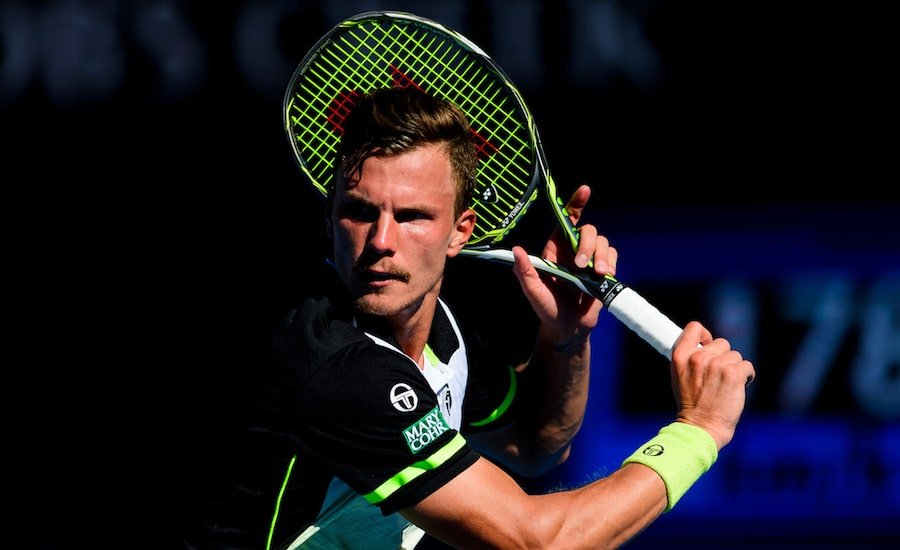 Fucsovics won the Wimbledon junior title in 2010 but then struggled to make his mark in the senior game. "I felt a lot of pressure," he said. "Everybody expected me to be in the top 100 in the next one or two years – but it didn't happen for another eight years. It was a difficult time. I played Challenger tournaments every week. It was tough."
He added: "When I turned 18 or 19 I wasn't very good. The transition was really hard for me. But I kept on fighting. It was my dream – and finally I made it."
When Fucsovics was growing up there was very little tennis on Hungarian TV other than the Grand Slam tournaments. That has changed in recent years as interest in tennis has grown, but Fucsovics thinks that tennis has a long way to go before it catches up with other sports. "The most popular sport in Hungary is football – even though the quality is very bad," he said. "Hungary won the Olympics water polo a couple of times. We have good swimmers, handball players and fencers too."
When he plays around the world is Fucsovics ever aware of a Hungarian presence in the crowd? "When I was playing in the Challenger tournaments I didn't hear many Hungarians but now at the ATPs I hear quite a lot," he said.
A handful of men's and women's tournaments are held in Hungary, which helps to fuel interest in the sport. "We have one ATP tournament, one Challenger and a couple of Futures," Fucsovics said. "This year there were maybe 2,000 people watching the final of the ATP tournament. On the other days there were probably just a few hundred people there."
If Fucsovics went into a supermarket in Budapest would people recognise him? "Maybe 70 per cent would," he said. "Tennis is changing in Hungary, in a good and positive way."
HUNGARY
Population: 9.7 million
Land mass: 93,030 sq km (35,919 sq miles)
Capital: Budapest (population 1.77 million)
Davis Cup record: Hungary first played in the Davis Cup in 1924 but have never gone beyond the first round in the World Group. They reached the Europe Zone Final in 1976 and 1978. Balazs Taroczy, who played between 1973 and 1986, holds the record for the most singles wins and most doubles wins. Hungary will take on Ukraine in September in Europe/Africa Zone Group One, with the winners to go through to next year's qualifiers for the 2020 Davis Cup Finals
Fed Cup record: Hungary's best Fed Cup performances saw them reach the quarter-finals in 1963 and 1985. Reka-Luca Jani, who made her debut in 2010, holds the record for the most ties played (30), while Petra Mandula, who played from 1994 to 2003, has won the most rubbers (28). In the Europe/Africa Zone Group One matches in Bath earlier this year Hungary beat Greece, Slovenia and Croatia but lost to Britain
Keep up to date with all the action at our tennis news section. Win amazing tennis prizes by entering our competitions. Learn more about your favourite players including Roger Federer, Rafa Nadal and Novak Djokovic. Check out the latest kit in our tennis gear reviews. Receive regular updates with our legendary newsletter or read in depth features with stunning photography in tennishead magazine. Can't visit the tournaments you love? Check out our guide on how to watch tennis on TV. Don't miss a thing with our Live Scores service. Follow tennishead on social media at Facebook, Twitter, Instagram & YouTube