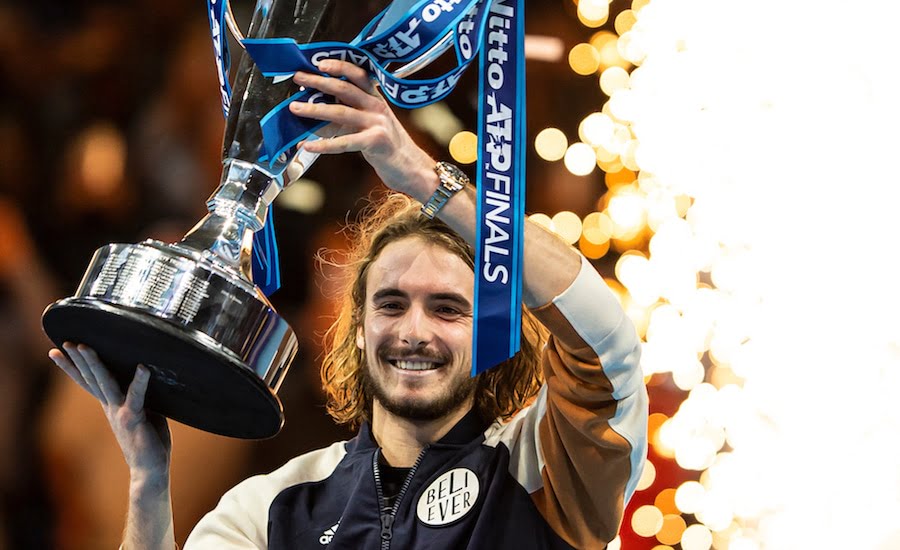 "I do feel like I belong to be there" Stefanos Tsitsipas makes bold statement on Grand Slam prospects
Stefanos Tsitsipas is very confident in his own game at the moment and rightly so. He even believes a first Grand Slam title is just around the corner
Stefanos Tsitsipas doesn't care which Grand Slam he wins but he feels that a victory is just around the corner after becoming one of the youngest ever champions of the season ending ATP Finals. He's managed to beat the best players in the world and knows that the amount of time and effort he puts into practise is starting to reap huge rewards.
Tsitsipas was speaking after his biggest every tournament victory when he was asked if Wimbledon was still the tournament that he'd most like to win. He said, "You know what? I don't really mind anymore. I believe all Grand Slams are great. They all have something unique in them.
"So for sure Wimbledon is something that, you know, a tournament that has a lot of traditions, and I think most of the players, if you ask, want to win Wimbledon. But for me, any Grand Slam would be great.
"I feel like my game is getting better over time, and I believe I'm really close on being crowned a Grand Slam champion. I know these are strong words that I say, but I do feel like I belong to be there.
"I'm competing against one of the best players in the world, and the amount of effort and the amount of work I put every day deserves to have an outcome like this."
World no.6 Stefanos Tsitsipas is the youngest player in the world's top 20. In 2019 he won 3 ATP tournaments including the ATP Finals at the O2 arena in London.
Look ahead to the rest of the tennis year with our guides to every tournament on the ATP Tour and WTA Tour. Can't visit the tournaments you love? Read our guide on how to watch all the ATP Tour matches on TV. For more news, explore Tennishead magazine here or subscribe to our free email newsletter here.