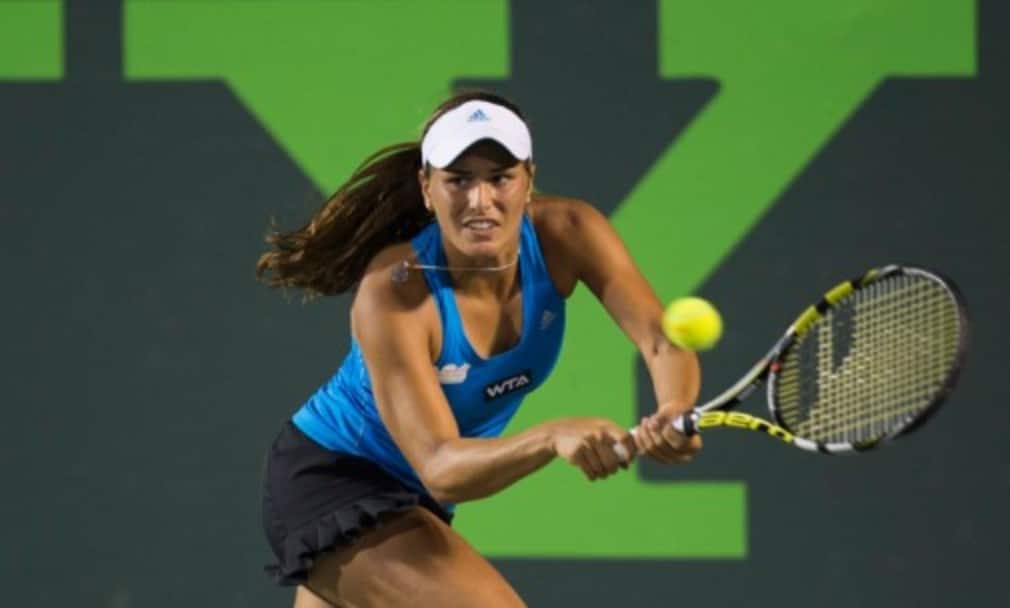 Hot stuff: Monica Puig
Originally published on 20/05/14
Pica Power may sound more like a firm of electricians than a nickname for an up-and-coming tennis player, but then Monica Puig loves nothing better than to make sparks fly.
The 20-year-old from Puerto Rico lit up Roland Garros and Wimbledon last year with a series of fine performances and is determined to prove this summer that those results were no flash in the pan.
Puig has more than 30,000 followers on Twitter. Her hashtag, #PicaPower, sums up her personality on court.
"Picar means to 'grind out' in Spanish," she explained. "It was something I started hearing a lot from my coach in coaching sessions. I wanted to have fun with it and so made a little slogan with it myself. Sooner or later, it became my catchphrase and people now refer to me as Pica Power.
"It's great to see how many people have caught on with it. It's my nickname, I'm very powerful on the court, it's strong and now I have it on my bag. It's becoming bigger and bigger."
Having entered last year's clay court season ranked outside the world's top 100, Puig quickly made a name for herself.
Playing in the main draw of a Grand Slam for the first time at the French Open, she reached the third round with victories over the No.11 seed, Nadia Petrova, and her fellow teenager, Madison Keys.
Puig followed that with a stunning debut at Wimbledon, where she reached the fourth round. She claimed the biggest win of her fledgling career when she knocked out the fifth seed, Sara Errani, in the first round and followed up with wins over Silvia Soler-Espinosa and Eva Birnerova before losing in three sets to Sloane Stephens.
Making a rapid climb up the rankings, Puig suddenly found herself in the main draw for some of the biggest events on the WTA tour. That was quite a change from 2012, when she played only two main draw matches and lost them both. Puig knows that she needs a good summer this year to avoid slipping back down the rankings.
"Wimbledon and Roland Garros were the best tournaments of the year for me," she said. "Coming into 2014 you want to try and up those results, but obviously there are going to be some roadblocks."
Having worked with the Belgian Alain de Vos since her early teens, Puig opted for a fresh start at the beginning of this year when she appointed Antonio van Grichen as her coach.
The Portuguese has since stepped down as he was unable to commit to travelling on a full-time basis and Puig is now working with Spaniard Ricardo Sanchez, who has previously coached Nadia Petrova, Caroline Wozniacki, Agnieszka Radwanska and Jelena Jankovic
Although she has lived in Florida from an early age, Puig remains fiercely patriotic.
"I'm proud of representing Puerto Rico," she said. "I play Fed Cup for them, which is an amazing experience, and in 2016 I hope to go to the Olympics.
"Tennis is not big in Puerto Rico. The big sports are the 'three Bs' – baseball, basketball and boxing. But tennis is starting to grow. I am playing a lot, I am in the newspapers and I see more and more people playing tennis. I get recognised in the street now; I try avoiding going out when I go there. They show a lot of my matches on television."
Puig has impressed with her striking combination of power, athleticism and passion. Rennae Stubbs, a former world No.1 in doubles, singled her out as a "terrific competitor" and a future top 20 player. The Puerto Rican has also worked with the adidas coaching team of Darren Cahill and Gil Reyes.
"Darren and Gil have helped me tremendously over the past three years," she said. "They have definitely been a great support for me and the adidas programme is outstanding. I am really happy to be a part of it."
Those connections have also enabled Puig to benefit from the wisdom of Steffi Graf. "I have hit with her a couple of times," Puig said. "She's just so consistently amazing in what she does. She's still got it. What a champion she is."
On tour, Puig spends her spare time with the American Bethanie Mattek-Sands and Germany's Annika Beck. "We see each other every week," she said. "It makes sense to talk to one another and help each other out."
At home Puig's dog Ginger keeps her company. "Ginger is a cocker spaniel, she's an oldie," she said. "She's 13, so she's hanging in there. She spends most of her days sleeping."
Off the court, Puig relaxes by reading. "I loved the Twilight series. I read all the books in almost one day. Those types of books really get me hooked. I also like to write. I express myself better with a piece of paper and a pen. Sometimes I have a picture in my head and I play out little scenarios, and wonder what it would be if I made a story out of this. I reach for a pen and paper and just keep writing."
Might the next scenario feature some major feats by a young tennis player from Puerto Rico?
This article appeared in tennishead Volume 5 Issue 2. Subscribe to the magazine today or download tennishead on iTunes.