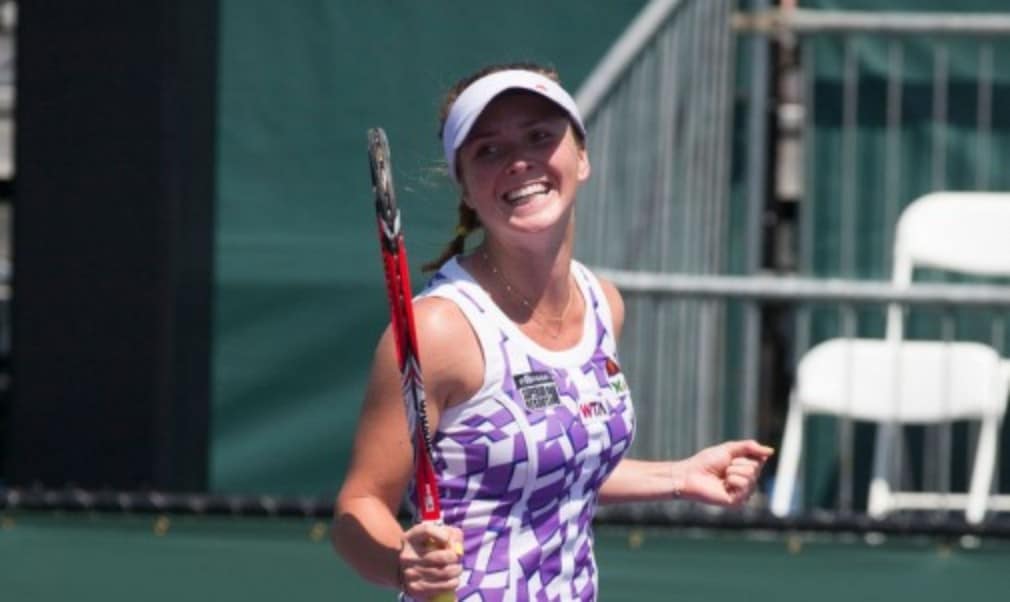 Hot Stuff: Elina Svitolina
Originally published on 31/03/14
After reaching the third round at the Australian Open in January, the 19-year-old has emerged as one to watch in 2014. She tells tennishead about her lofty ambitions and her inspiration, on and off the court.
Talk to Elina Svitolina and it is easy at first to be deceived by her relaxed manner. Before long, however, you appreciate that she is an individual who thinks long and hard about the world around her and her place in it.
Take, for example, two of her major sources of inspiration, the Klitschko brothers and the Australian-born motivational speaker, Nick Vujicic. What appeals to her about Vitali and Wladimir Klitschko, two of the most successful heavyweight boxers of modern times, is their personalities and role model status in Ukraine.
The Klitschkos might be obvious people for a young Ukrainian to look up to, but Vujicic is perhaps a less likely hero. He was born without arms or legs, a victim of tetra-amelia syndrome. Despite all his physical challenges, Vujicic is now an author, a musician and motivational speaker. He lives in the United States. "I am reading his book at the moment and have watched his videos," Svitolina said. "He's amazing. I've learned a lot from him – about believing and trusting yourself, listening to your heart. I have learned a lot about myself from him. I love him."
Svitolina grew up in Ukraine with a brother, nine years older than her, who was a professional tennis player and is now a tennis coach. From a young age she loved to challenge her brother. "I was a bit jealous that my parents were travelling with him and I was home alone," she said. "I was trying to work hard and get better and get some attention. I'm so competitive. I was always trying to get better than my brother. Finally, when I was 11 or 12, I was starting to make an impression."
She recognises that this competitive upbringing had its benefits. "I think it's great to have this kind of family that pushed me to be competitive for the future."
In 2010, when Svitolina was 15, she won the girls' title at Roland Garros. She now lives in France and has a French coach, Sebastien Mattieu. She is based at the ISP Tennis Academy, where she trained during the off-season. When she travels, Svitolina admits that she misses Ukraine. "I miss my family and my grandparents," she said. "I miss my brother because he stays there. He is working in Kiev."
Nevertheless, she is already beginning to reap the rewards of this sacrifice. At the beginning of this year Svitolina signed a sponsorship deal with the Ellesse clothing brand. She is aware of the brand's heritage. "I think it's great to be a part of the team. They have great history behind them and it's great to represent them. They have a lot of great players, like Boris Becker and Chris Evert."
During her run to the third round at the Australian Open in February, Svitolina beat Svetlana Kuznetsova in the first round on one of the days when the temperature at Melbourne Park topped 40°C. She saw the experience as another part of her education. The other great highlight of her career so far came last summer when she won the title in Azerbaijan.
At Wimbledon she played Marion Bartoli, the eventual champion, in the first round. She lost 6-3 7-5, but insisted: "Wimbledon was a great lesson for me. I can see I need to work harder to win the matches and against these top players you see what you need to work on."
Svitolina is prepared to put in the effort to move up the world rankings. "You need to work really hard before matches, off the court as well as on it, and thinking about how to play against the top players is important," she said.
She is ambitious. "I always try to put my ambitions so high that I cannot reach them, so that I always have something in front of me," she said. "For now, maybe it will be top 10 or something like that. Then maybe even higher."
Her tennis idols include Kim Clijsters. She likes the Belgian both as a person and as a former top player. "I really like her game and I really liked her on court," she said. She describes herself as a defensive baseliner. "Some players say I like to be defensive rather than going for the attack, but it's my strength."
Off court, she loves water sports. Given that she grew up close to the Black Sea, this is hardly surprising. Her brother introduced her to wakeboarding, which she admits is a tough sport. "It's really painful for your hands and you need to be really strong, but I love it. I love water."
With Svitolina's clearly-defined role models, a new clothing contract and an ambition to succeed, her fellow teenagers on the tour will need to keep an eye on her. The relaxed Ukrainian means business. As she strives to get to the top, she will carry on drawing inspiration from others who have made it to the summit.
This article originally appeared in Volume 5 Issue 1. Subscribe to tennishead today or download tennishead on iTunes.