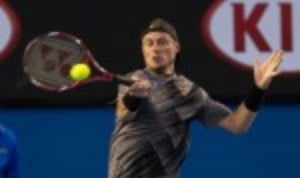 Hewitt plays fellow Aussie
Originally published on 16/01/16 00:00
It is curious that having played in 19 previous Australian Opens, in his final home slam Hewitt should be drawn against another Aussie. Only once before, in 2003 when he played Todd Larkham. has the long-lasting Hewitt played a countryman.
"Always bound to happen wasn't it," the 34-year-old said. "Especially now that I've got a second hat on, a full-time job as Davis Cup captain." His 23-year-old opponent, whom Hewitt refers to, as "Ducks" has been part of the Australian Davis Cup squad, although he has never played, so Hewitt knows him well.
Our Australian Open digital issue is out now. Download it for free on your Apple or Android device.
"He has a good serve, good forehand. He has a quality first serve, good second serve. Gets a lot of kick off the court as well. He's a different kind of player. He's a good competitor as well, very good competitor. He changes up his game style, He comes in a little bit. He stays back. Tries to rush you at times.
"Ducks was text messaging me yesterday morning before the draw was out. So I think both of us will look back on it. No matter what happens, it will be a satisfying enjoyment of going out there and playing against him. It's his only opportunity to play against me obviously on a big court as well. I think later on in our career, his career, me once I've retired it's something that we'll enjoy."
Hewitt has been busy coming into the Australian Open. He teamed up with Jarmila Wolfe to form the Australia Gold team at this year's Hopman Cup in Perth. He took part in an event in his hometown of Adelaide and played in a Fast4 exhibition match in Sydney. "I feel like just to get that match toughness back, into the routine of playing matches again, the last two weeks has been good. I had a god hit out with Fed yesterday. Hit with Murray this afternoon. Hitting with the best guys."
When Hewitt first played at the Australian Open he was a teenager. "I didn't think I'd be playing past 30, that's for sure. 30 years old, not 30 times," he said smiling. He will still be nervous before the match.
"A couple days out from a slam, you're always a bit on edge, a bit nervous. I think that's the same for every player," he said. "Doesn't matter how many times you've done it, if it's your first or possibly your last."
His wife Bec filmed his pre tournament press conference on her phone and their three children sat patiently by the side, waiting for Dad to finish his final pre Aussie Open presser.