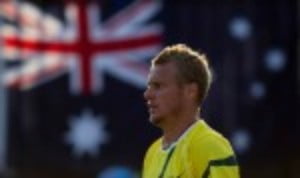 Hewitt named Australian Davis Cup captain
Originally published on 27/10/15
The two-time Grand Slam champion will take the helm from Wally Masur, who guided the Australian team to the semi-finals this year, losing 3-2 to Great Britain in Glasgow last month. Hewitt's first task as captain will be a World Group tie in March 2016 against USA, the same team he made his playing debut against in July 1999.
"I've been fortunate enough to work under some of the greatest Davis Cup captains in history," said Hewitt. "We have a rich tradition in Davis Cup, with so many great players. I want the young boys to understand that, and I'm proud to have been trusted to lead the next generation. For me, it's about instilling my experience and helping the younger players be their best."
Hewitt has played 41 Davis Cup ties spanning 17 years, more than any other Australian player in history, amassing a 58-20 win-loss record in singles and doubles. He has lifted the trophy twice, in his rookie year in 1999 as well as going unbeaten to guide Australia to a 28th title in 2003.
"The last three or four years, Davis Cup has been as big as any Grand Slam for me personally," Hewitt said in July. "When I make my schedule, everything has worked around the Davis Cup and trying to get the most out of myself."
"It's a role he has seemed destined to do, a role he was virtually born to do," Tennis Australia President Steve Healy said.