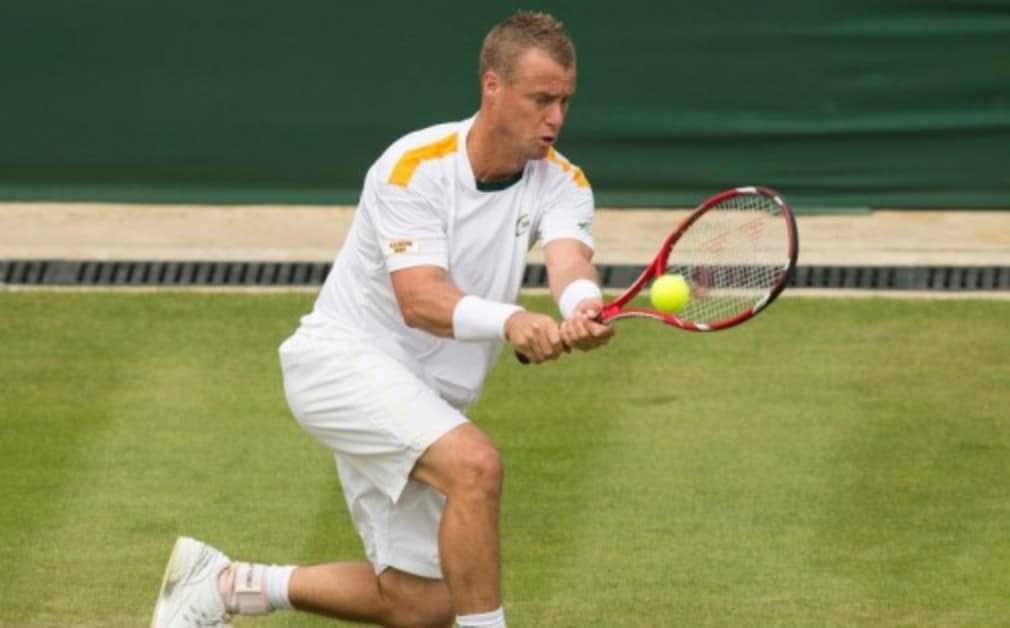 Hewitt doubles up in Newport
Originally published on 14/07/14
The 33-year-old had lost in the final of the Hall of Fame Tennis Championships for the previous two years. But it was third time lucky for Hewitt as he beat second seed Ivo Karlovic 6-3 6-7(4) 7-6(3) to become only the fourth active player to have won at least 30 singles titles.
"I felt relief to have finally won here. It's an important tournament," said Hewitt, who had never won the singles and doubles at the same event before. "I've come here the last three years and have come awfully close the last two years. It's nice to be rewarded today. I've had some tough times with surgeries the last few years. But it's nice to know that all that hard work has paid off."
Playing in his 10th grass court final, Hewitt was broken as he served for the match at 5-4 in the second set, just as he was last year. But on this occasion he managed to recover, saving three break points early in the third and then taking his third match point to win the tie-break in strong winds.
"We had tough conditions today, especially for serving," he said. "I was just trying to play clean tennis as much as possible. From the baseline I was able to adjust to wind better than him."
With a combined age of 68 years and 10 months between Hewitt and Karlovic, the final was the oldest men's final since 1977. It was also Karlovic's third of the season and the third time he has finished as runner-up in 2014 after losing in Memphis to Kei Nishikori and in Dusseldorf to Philipp Kohlschreiber.
"Hewitt returned really well, he rarely missed," said the Croatian. "I didn't have my normal serve because it was windy. I was committing a lot of double faults and missing volleys – both of which I don't normally do. That was because of the wind and because Hewitt was always right there. I'm a little disappointed but overall it was a good week."
Following his singles victory, Hewitt teamed up with fellow Australian Guccione to beat Jonathan Erlich and Rajeev Ram 7-5 6-4 in the doubles.
"It was good to win with 'Gooch' – we'd never won a title together before," said Hewitt. "We've played some big matches, in Davis Cup. It was important for us to win. I'm pretty pumped about it."