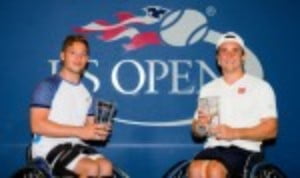 Hewett & Reid are the champions
Originally published on 09/09/17 00:00
It was an exhausting day for Hewett and Reid at the US Open today.
The duo first faced one another in the semi-final of the Wheelchair singles – the first time a British pair had ever met at this stage of a major – and Hewett won 7-5 5-7 7-6(8)
En route to the semi-finals, Reid defeated Belgium's Joachim Gerard while Hewett overcame six-time US Open champion Shingo Kunieda of Japan.
The all-British last four clash took just over three hours. Both players had multiple match-points. Hewett had five, three of which came in the second set and Reid had a total of six.
At 9-8 in the tiebreak, Hewett secured victory with a lob and his delight at reaching his first US Open final was clear to see.
On court after the match, Hewett said "I am a bit speechless right now. It was an amazing match. He (Reid) deserves another round of applause, he is a great sport, and a great athlete.
Later he commented, "It wasn't easy to take the match point. I didn't know who was going to win. It was one of those matches where every point was so critical, I felt like it could have gone either way.
"It was a great feeling to win, but it's not nice beating your doubles partner."
"We both went out there and we fought in the right spirit of the sport," said Reid. "We left everything out there, but there can only be one winner."
A couple of hours after their singles match, Reid and Hewett were on the same side of the net to meet top seeds Stephane Houdet and Nicolas Peifer in the men's doubles final.
They defeated the No.1 seeds 7-5 6-4 in one hour and 50 minutes.
"I feel like we played a really composed match and we deserved to win today," said Reid. "We were solid with our serving and we put a lot of pressure on them to hold."
"We spend so much time together on and off the court" added Hewett. "We know what each other is going to do movement wise and we probably don't even need to shout 'you' and 'me.'
"We work hard together and we pick one another up if we have a hard patch. Today was good, after the Wimbledon win to come here and win." he said. "At least we took the first match-point," he joked, referring to the earlier singles match.
The skill that the British pair showed today, both individually and together was exceptional. Reid remarked that on their way to the doubles match, he said to Alfie. 'We are going to look back at these moments in years to come and realise how we are helping to shape the future of wheelchair tennis.'
"A few years ago nobody would have imagined wheelchair tennis players playing on (Arthur) Ashe (Stadium) or Grandstand," said the Scot. "The crowd that was there at the end of our singles match was so into it." The USTA have done much this year to promote the sport, both in terms of the courts where the matches have been played and the scheduling. Reid considers thier efforts to be the best of all the four majors.
On Sunday, Hewett will face Stephane Houdet in the final. "It's a big occasion for me, but I will keep doing the same routines and try to be in the best shape that I can."
Reid won't be watching. "I will be keeping an eye on the score on my phone" he said.
"I'm going to take a little bit of a break from the tennis world, it's been a tough year for me" Reid said "I want to get hungry for the sport again. Of course I'm backing Alfie to win the title."
This story is brought to you by Wilson, the global leader in performance tennis
Posted by: tennishead magazine