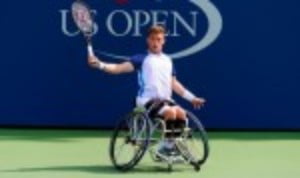 Hewett beaten in wheelchair final
Originally published on 11/09/17 00:00
He won the wheelchair doubles championship with compatriot Gordon Reid on Saturday and 24 hours later he was runner-up in the singles event, where he was defeated by Stephane Houdet 6-2 4-6 6-3.
It was a closely-contested match today, which went to three sets, but Hewett was unable to overcome his veteran opponent.
"I felt it was a match that I had in my hands," said the teenager after the final. "I can't be too hard on myself because it took so much out of me yesterday."
His final opponent was Houdet from France, who at 46-years of age was the oldest competitor in the tournament.
"Houdet has a strong forehand," admitted the Brit. "My plan was obviously to try and pin the backhand, wait for that short ball to come in and attack it. I felt like I had a lot of chances every set.
"Houdet is a very experienced guy. He has been around a long time, played a lot of matches. He knew what to do. I think he knew I was struggling and in the third set as I felt like I was trying to end the points too soon.
"He just kept making me play. I don't think he really hit that many winners in the third set. Looking at the stats, my 39 unforced-errors to his 17, says a lot."
Hewett, who won the Roland Garros title in June, was hoping to do flourish on his US Open debut.
"It is my first time here and I am obviously disappointed," he said. "I wanted to reach the finals, in singles and doubles, so I have met my expectations. I am very happy. There's so much I can take out of this week."
On several occasions throughout the match, Hewett vented his frustrations and he admits he does have a fiery temper. "I've tried to be this calm, collected, not show emotion guy, and it just doesn't work for me," he said.
One suspects that may be one of the reasons why he loves the atmosphere in New York, the loudest of the four majors. This week, the USTA have showcased the wheelchair events on Arthur Ashe Stadium, Grandstand and Court 17, where Hewett played his final.
"To see Rafa (Nadal) and Kevin (Anderson) out there now (in the men's singles final) and to be able to say we've hit on that court as well, is quite cool," he added.
"The vibe and the atmosphere here – I probably shouldn't say this – is probably the best out of all the slams. The vibe suits me. Stuart (Wilkinson) said that at the start of this week 'this week's gong to suit you, Alfie' and I was like 'what do you mean?' and now I know why."
Hewett lives in a village near Norwich. He is a Norwich FC supporter and tries to get to as many of their matches as possible.
Until recently, Hewett spent most of his time training at the David Lloyd Centre in Norwich. Last summer he finished studying for his diploma in Sports and Exercise Science and since then he has turned his focus to tennis – and his results have been impressive.
In a week's time he will start a six or seven week training block at the National Tennis Centre in Roehampton. "There is a bit more for me there, coaching wise, facility wise and it could be a great opportunity for me to develop myself," he said.
"Next year I'll come back and hopefully be wiser and stronger. This has turned out to be a really good year. I am growing in confidence every time I play and I have really enjoyed it."
There will be plenty of New Yorkers looking forward to his return next year.
This story is brought to you by Wilson, the global leader in performance tennis