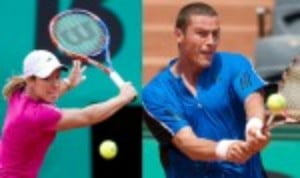 Henin, Safin nominated for Hall of Fame
Originally published on 26/10/15
Seven-time Grand Slam champion Henin held the world No.1 ranking for 117 weeks between 2003 and 2008, when she became the only reigning world No.1 to retire from the sport.
She won 43 career titles, including four major victories; triumphing four times at Roland Garros, twice at the US Open and once at the Australian Open as well winning the 2001 Fed Cup with Belgium, Olympic singles gold in 2004 and the WTA Finals in 2006 and 2007. She came within one match of completing her career Grand Slam at Wimbledon in 2006, losing to Amelie Mauresmo in the final.
"The Hall of Famers are individuals who I have admired from the time I was a young girl, throughout my career, and to this day," said Henin. "To be nominated for induction into this group and to have my career recognised in this way is a great honour, and I thank the committee for the nomination."
Also nominated is another former world No.1, Marat Safin. The volatile Russian defeated home favourites to win both of his major titles – stopping Pete Sampras in the 2000 US Open final before denying Lleyton Hewitt glory at his home event at the 2005 Australian Open.
"To be part of a Hall of Fame is every athlete's dream," said Safin. "It is a great honour to have my tennis career recognised in this way, and I am proud to represent Russian tennis with this nomination for such a prestigious honour in our sport."
The final athlete nominated in the Recent Player category is Helena Sukova, a 14-time major doubles champion who famously ended Martina Navratilova's 74-match winning streak at the 1984 Australian Open. She completed a career Grand Slam in women's doubles as welll as winning five mixed doubles titles, three with her brother Cyril Suk.
"Being recognised as part of tennis history is all I can ask, now that my playing days are over," she said.
Yvon Petra and Margaret Scriven have both been nominated posthumously in the Master Player category.
"This year, we recognize the achievements of two of tennis' great early champions—Yvon Petra, who claimed a Wimbledon title after five years as a prisoner-of-war, and Margaret Scriven, who won two back-to-back singles titles at the French Championships," said International Tennis Hall of Fame Presiden Stan Smith, who also serves as chairman of the Enshrinee Nominating Committee.
The Class of 2016 will be announced after voting ahead of the induction ceremony at the International Tennis Hall of Fame in Newport, Rhode Island on July 16.