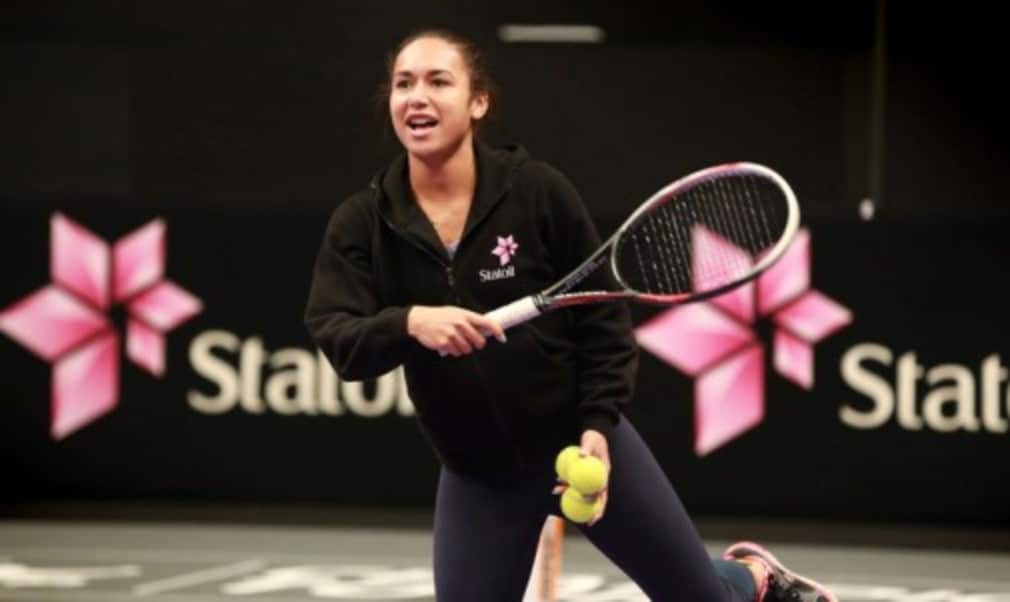 Heather Watson fired up for new season
Originally published on 08/12/14
The British No.1 is currently in her fifth week of a seven-week training block, enjoying a brief trip back to the UK after putting in the hard yards in the gym and on the practice courts at her training base in Florida.
Watson, who moved to Nick Bollettieri's IMG Academy at the age of 12, finished the year in the top 50 having worked her way back up the rankings after struggling with glandular fever in 2013.
Watson has taken to posting photos of her workouts on social media and accompanying them with a motivational quote such as "don't wait until tomorrow, start right now", and "pain is temporary, winning is forever".
"I'm really into all the motivational quotes. I feel like if I can just read one it really motivates me," Watson told tennishead. "I've got loads of favourites but one of my favourites is: 'Winners never quit and quitters never win'.
"I really enjoy the gym work now, I didn't use to. I think my trainer knows my body, knows me well and what I like so she makes it fun yet we get a lot of hard work out of it.
"Training has gone really well so far. I'm fit and healthy, feeling fit and playing very well already so looking forward to starting the New Year."
Watson, who will spend Christmas at her training base in Florida before flying to Perth for the Hopman Cup, where she will play with Andy Murray, was nominated for WTA Comeback Player of the Year, an award which was won by Mirjana Lucic-Baroni, who at the age of 32 won her first title since 1998 with victory in Quebec.
"I was pleased with 2014," Watson reflected of her season, which saw her climb from No.119 to No.49. "I wanted to get back to where I was, not just in terms of rankings but also to get back mentally and physically and really enjoy my tennis again and I feel like this year I've played some of the best tennis I have played in my whole career."
Watson, who was speaking at a Give it Your Max coaching masterclass as part of Statoil's 'Heroes of Tomorrow' programme, which supports young people in sport, education and culture, recalled when Tim Henman attended a tennis clinic at her home in Guernsey.
"I absolutely love working with the kids," she said. "It's really good fun and they're always so enthusiastic to learn and to play and that just makes it so great for me. I remember when I was younger and Tim came to Guernsey and I did a clinic with him and I remember it being such a special day and it meant so much to me, so I hope that these kids think even a little bit of how I felt at the time."