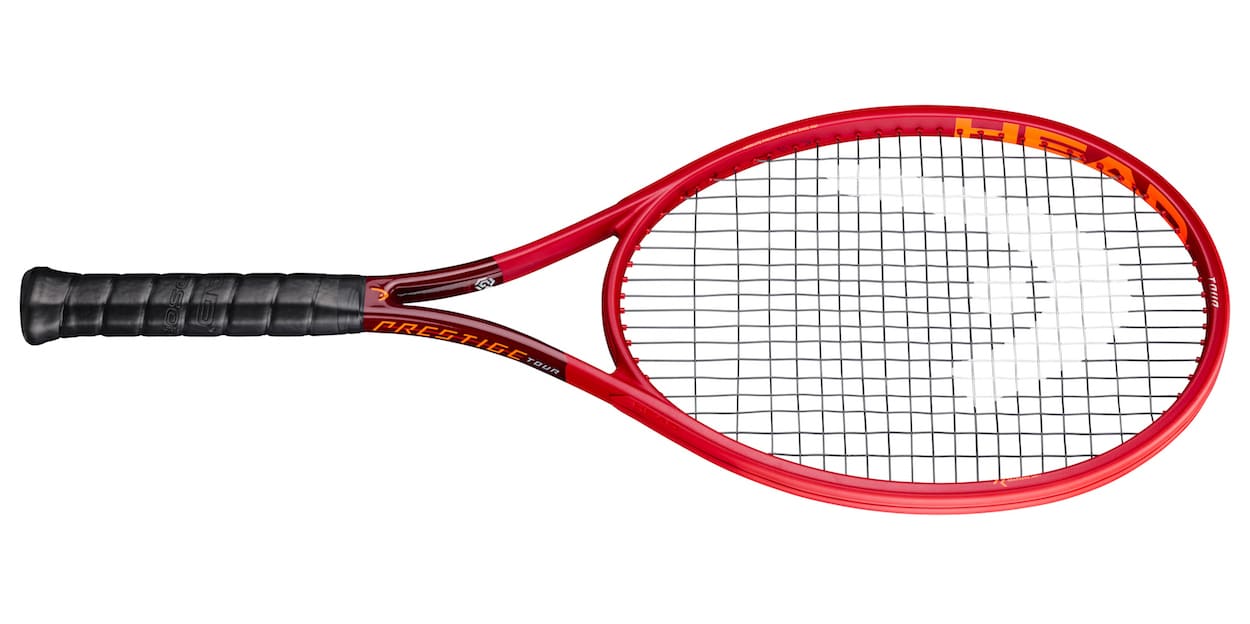 Head Prestige Tour (2020) tennis racket review
The Head Prestige is probably Head's most well known and talked about advanced players tennis racket mainly thanks to the legendary players that have become synonymous with the red racket over the years. When we found out the frame was undergoing a belt and braces upgrade we just had to try it out for ourselves. Here's how it went…
Head have been investing considerable resources in their whole racket range in recent years most notably with the launch of a complete new range, the Gravity, which went on sale last summer to great fanfare. Now they've decided that the hugely succesful Prestige needed the same treatment.
The background
When someone says Head Prestige it immediately conjures up images of Marat Safin, Gustavo Kuerten and Thomas Muster winning match after match on the red clay whilst their racket literally 'whistled' through the air. Yes that's right, it whistled! Why? Because of a very tight stringing pattern and stiff frame that, at certain high racket head speeds, would create a whistling sound as the racket swished through the air. So have Head modernised the racket or have they gone back to the aspects of the Prestige that made it so famous? A bit of both actually…
The technology
Head introduced Graphene in 2013 and the material now forms the core component of most of their tennis rackets. Graphene 360 has now been introduced to the Head Prestige whereby the frame incorporates Graphene at all the major impact points including the shaft and the head. Graphene aids the "mass distribution" (hitting the ball) therefore allowing "greater manoeuvrability and more power".
Spiralfiber technology is new for this iteration of the Prestige and means there are "twisted fibers placed on the shoulder area of the racket which accompany the frame in it's deformation and provide greater flex and a clean impact feeling".
The Head Prestige Tour version of the range that we decided to test weighs 305g and has a slightly elongated shaft than normal to help add a bit more flexibility to this traditionally stiff racket.
Watch what happened when our tester tried out the Head Prestige Tour 
The play test feedback
tennishead let loose one of our most experienced all-court testers for this session as we really wanted to put the Prestige through it's paces with a player who's game closely matched the specification provided by the manufacturer.
Liam hits a relatively flat ball and is very happy grinding it out from the baseline or looking to finish the point quickly in the forecourt, so he was very excited to try this new version of a classic racket.
Firstly, we asked Liam for a comparison to his current racket, a Yonex EZONE 98. "The specifications are very similar between this Prestige Tour and my own racket especially the weight. I felt the head was a little stiffer than what I normally use which made this racket feel more control orientated".
When Liam started off hitting groundstrokes he immediately noticed the stiffness of the Prestige which he felt "enables him to put the ball where he wanted but sometimes if I hit the ball a bit late maybe the power wasn't quite there".
Moving to the net for volleys and touch shots he really enjoyed being able "to do whatever I wanted with the volleys in terms of drop shots, power volleys and really easy to get a load of backspin on it. Really enjoyed it".
Liam then tried hitting smashes and serves with the Head Prestige Tour and felt that the 305g weight made it "really easy to serve and getting up to the ball was nice as I could put some pace on it, which is great".
When we asked about the effect of the new spiralfiber technology on the racket Liam said, "In terms of flexibility, I've played with other rackets that have more flexibility but I think that's to do with the fact that this is such a solid frame".
The specifications
For a detailed explanation of each racket measurement criteria below have a read of our guide.
Head Prestige Tour (2020)
RRP = £210
Head size = 99 sq in
Weight = 305g
String pattern = 18/19
In conclusion
This was an exciting racket to test because of the heritage that comes with the Head Prestige and it's fair to say that Head haven't tried to change a winning formula, they've merely polished a diamond.
If you are an advanced player who likes competitive matches in both singles and doubles and doesn't rely on masses of topspin then you'll be doing yourself an injustice if you don't try the new Head Prestige Tour.
Our advice would be to very carefully choose the right model from the range and also to take your time to try out different types and tensions of string, as the strings will have more of an impact in a racket like this.
Now go ahead and demo a modern classic!
Buy the Head Prestige Tour
tennishead has teamed up with AllThingsTennis.co.uk, our trusted online retail partner, to offer you an incredible price and service if you'd like to purchase the brand new Head Prestige Tour.
Head's RRP for this racket is £210 but as a tennishead reader you will receive 5% off the already heavily discounted price of £169 if you use promo code: TENNISHEAD5 when purchasing this racket from AllThingsTennis.co.uk. They are also offering everyone a free string upgrade worth up to £30. What's not to like about that!