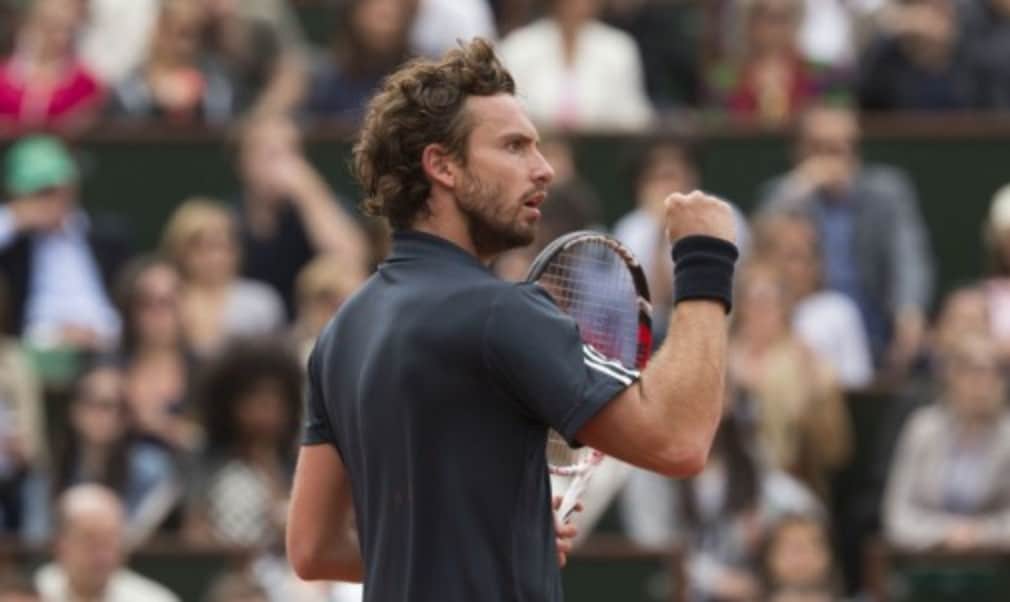 'Hard work and dedication' paying off for Gulbis
Originally published on 02/06/14
The enigmatic Latvian has been up and down the world rankings in recent years, almost cracking the top 20 in 2010 before sliding down to No.159 just 24 months later. His latest revival has seen him reach a career-high No.17 in the world this year and he has already won as many titles in 2014 as he has in any other season.
Following his five-set win over Roger Federer in the French Open on Sunday he has also done something he has not managed to do since Roland Garros in 2008 – reach the quarter-finals of a Grand Slam.
"Hard work and dedication, like [boxer] Floyd Mayweather says, that's the key," said Gulbis following his 6-7(5) 7-6(3) 6-2 4-6 6-3 win over the world No.4. "It's all about hard work. You cannot have good results without hard work. That's what I understood. What I also understood is that I started to enjoy things much more if I did my work. I didnn't enjoy life to the fullest if I didn't do my whole life, my job.
"This is the same for all of us. We do something good, we work hard for one week and then for sure on Saturday and Sunday we can enjoy that Saturday and Sunday much better. Or if we stay at home, drink beer all day and not do anything, Saturday and Sunday, what, we do the same again? We get drunk again. It's only after hard work we can enjoy life. That's what I found out."
Gulbis, currently on an eight-match winning streak, has mainly hit the headlines in the past for his racket-smashing antics or outspoken criticism of the game's top players, including Federer, who he labeled "boring". However, talk now is likely to be about whether the Latvian can build on his win over the world No.4 and go deeper in a Slam than he ever has before.
"It's probably the most important [win of my career], for my confidence and just for me as a tennis player, a five set win over Roger Federer, it's really big," he said. "Hopefully it's going to change me that I become more confident about myself on a tennis court. Change is good. Just what kind of change? Everybody changes. How can you say that you were the same person five years ago? You know, how can you say that you were the same person yesterday? Something can happen in your life."
Gulbis, who faces Czech Tomas Berydch in the quarter-finals, also revealed there was a point in his career when he questioned whether he would continue playing tennis.
"I did ask myself a couple of times, once really seriously when I played a Challenger in Eckental and I asked for a wild card," he said. "I didn't get the wild card so I had to play qualifying there. I made the final there, so it was an okay week, but it was just end of the year and in the middle of nowhere. In winter it was really depressing, and I thought honestly do I start to do something or is this what I do. That was one big question, but this [Grand Slam quarter-final] is the answer."