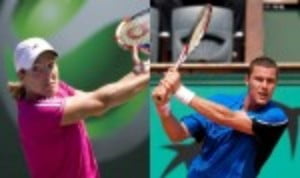 Hall of Fame honour for Henin & Safin
Originally published on 08/03/16 00:00
Seven-time Grand Slam champion Henin and two-time major winner Safin have been elected into the Class of 2016 in the Recent Player Category. They are the first inductees from Belgium and Russia respectively.
Henin won 43 WTA singles titles and spent 117 weeks as world No.1. In 2004 she added an Olympic gold medal to her trophy cabinet, having won the Fed Cup with Belgium in 2001.
"It's a big honour," she said. "I was five years old when I started playing tennis and my dream was to become a champion. All of the things that then happened, and all of the dreams that came true, all the victories and Grand Slams, and every emotion that I lived in my tennis career remains something very important in my life today. Being part of the Hall of Fame says that it will remain something forever, and that is very special."
Safin meanwhile, won two Grand Slam titles at the 2000 US Open and the 2005 Australian Open, and spent nine weeks at the top of the world rankings between November 2000 and April 2001.
"I'm very happy to be inducted to the Hall of Fame," he said. "I want to say thank you to everyone who helped me and supported me throughout my tennis career. To be part of a Hall of Fame is every athlete's dream. I am really honoured to be inducted and proud to represent Russian tennis alongside the greatest champions of tennis history."
The Class of 2016 Induction Ceremony will be held on Saturday, July 16, 2016 during Rolex Hall of Fame Enshrinement Weekend at the International Tennis Hall of Fame in Newport, Rhode Island. www.HallofFameTennisChampionships.com