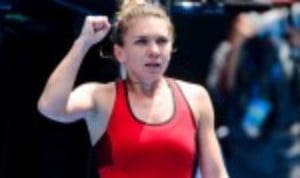 Halep toughs it out
Originally published on 20/01/18 00:00
On paper it may have looked like a fairly standard third rouncf clash. The World No.1 against a 5' 2" American ranked No.76 in the world, but it turned into an epic duel, that left the crowd on Rod Laver Arena, and anyone who watched it from afar, knowing they had witnessed something quite extraordinary.
The final set lasted two hours and twenty-two minutes and Halep saved three match-points against a 24-year-old who performed exceptionally.
"I have no idea how much I ran, I just feel like my muscles are gone, my ankle is – I don't know how it is, because I don't feel it any more," said an exhausted Halep, in an interview with Channel 7 commentator Sam Smith.
By making the third round in Melbourne, Lauren Davis had matched her career-best result at the first Grand Slam of the year.
Her resilience is not in doubt either. The American recovered from a set down against Jana Cepelova and Andrea Petkovic in her first and second round matches respectively.
But the American, who demonstrated both a speed and a power that more than matched her illustrious opponent, took the first set in 40 minutes. Halep managed to draw level before the drama of a captivating decider unfolded.
Davis said: "I have always looked up to Halep, because she's probably like two inches taller than me. She's an incredible player. She uses her speed to take time away and rush her opponent. She's super agile and dynamic around the court. That's exactly how I play."
Davis was unfortunate to suffer an injury to the second toes on both her feet, and required two medical timeouts in the final set.
"I think my second toes are just a bit infected," she added. "I was just jamming them a lot with how much I was moving around the court."
When the world No.1 finally confirmed victory, she raised her arms aloft in delight, but it was obvious just how much the marathon match had taken out of her physically.
"I gave everything I had today, and actually, I'm really proud that I could stay there and win it," said Halep. "It was not easy at all, and Lauren played great."
The Romanian will play either Ashleigh Barty or Naomi Osaka in the fourth round.
The word No.1 came into the tournament with an injury to her ankle, and it's obviously going to be a major concern for her moving forward.
"For sure I will go on court, but I don't know how it's going to be," admitted the 26-year-old, when asked about her prospects for the next match. "The doctor said that the risk is there because it's an injury, but I believe that it's going be fine.
"I don't know who I will play next, but for sure I have time to recover. I have one day off, so the problem is just the ankle for the moment, nothing else. We will see how it's going to be."