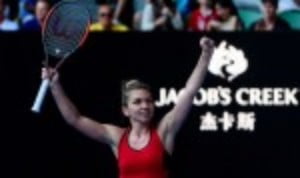 Halep defeats Kerber in epic
Originally published on 25/01/18 00:00
The world No.1 saved two match-points as she edged a bruising physical scrap with Angelique Kerber 6-3 4-6 9-7 to reach the Australian Open final.
The 26-year-old will tackle Caroline Wozniacki in the championship match on Saturday evening – and a first-time major winner is now guaranteed.
After two sets of fluctuating quality, the decider delivered the excitement and drama the capacity crowd craved. Both competitors pushed each other to the extremities of the court as a brutal baseline war commenced between two ferocious counter-punchers.
The rallies were lengthy and enthralling, but on this occasion, fortune favoured the brave.
Halep was the more assertive throughout and her willingness to roll the dice earned her a spot in the final for the first time.
It's the second time in the tournament the Romanian has saved match-points and emerged victorious, and her never-say-die attitude can only be commended.
"It was very tough, I'm shaking now," said Halep. "I'm really emotional because I knew before the match it would be very tough and she is a very tough opponent that moves pretty well and hits from everywhere.
"I'm really glad that I could resist and win this match. It was my second long match of the tournament and that's not easy, but I just have to enjoy this.
"When I twisted my ankle [against Lauren Davis in the third round] I decided that I would fight for every point and I would go to the end and give everything in this tournament – and then I'll rest."
Kerber, who impressed in her demolition of Madison Keys in the quarter-finals, was listless in the early exchanges against the Romanian. She looked devoid of ideas and confidence as she slumped 5-0 behind in just 13 minutes.
The German did eventually get her side of the scoreboard moving, but it was too late to salvage the opening stanza.
Halep was in the ascendancy and she strengthened her grip on the match in the second set. The 26-year-old moved 3-1 ahead before Kerber finally gave her band of noisy supporters something to cheer.
The former champion became more vocalised and energised as she displayed an unwillingness to let her quest for a third major title dwindle.
At 4-4, the world No.1 showed signs of anxiousness for the first time. She began to snatch at her groundstrokes and her usually trusty backhand began to misfire. Kerber capitalised on her opponent's woes and achieved a break of serve before taking the set by six games to four.
The decider was the first time both players performed to their maximum – and it ensured a thrilling finale.
Kerber struck first in the final set, but her joy was short-lived. Halep launched a sizzling backhand return winner down the line to break back immediately.
In the eighth game, the German, feeling the effects of some energy-sapping exchanges, dropped serve to fall 5-3 behind. The Romanian was closing in on victory, but she was denied in spectacular fashion.
After an epic 25-stroke rally, Kerber flicked a short-angled backhand winner crosscourt to break back and keep her fading hopes alive. It was a point to remember, and both competitors fully merited the standing ovation they received.
Kerber was still in trouble, though, and at 4-5, she faced two match-points. She dusted herself down and saved both with aplomb before pulling level again.
It was difficult to predict what would happen next, but it was soon Halep's turn to bounce back from the brink. The Romanian showed her mettle to save two-match points and eventually draw level at 6-6.
Both players were exhausted – physically and mentally – but it was Halep who took the checkered flag. The Romanian converted her fourth match-point thanks to Kerber firing a forehand beyond the baseline.
A contender for match of the tournament was finally over, and Halep now has a second chance to fulfil her dreams and aspirations on Saturday evening.